Cantaloupe Upgrades Yoke™ Micro Market Platform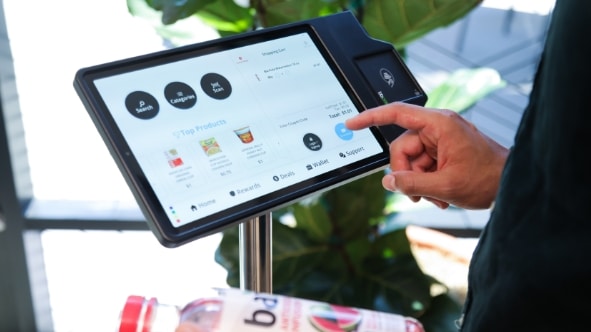 Thanks to the newly improved Yoke platform by Cantaloupe, Inc., micro market owners now have the tools that they need to stay engaged with their consumers using a variety of programs a including tiered rewards program, a loyalty program, and push notifications. 
The Yoke POS is a powerful, cost-friendly terminal solution for your micro market or self-service business. From the intelligently placed credit card reader and barcode scanner to the flexible mounting system, and multiple connectivity modes, all of Yoke POS's capabilities were designed to better serve consumers and simplify any self-checkout process.
Rethinking The Unattended Market
With more consumers choosing unattended markets than ever before since the Pandemic, Cantaloupe took the unprecedented step of rethinking the micro-market by recreating their successful Yoke platform so that it now is faster and more agile than before.
Built on Android, this platform offers QuickScan functionality for fast, self-checkout and what's more ideal is that their web-based kiosk management solution also integrates with Cantaloupes Seed Platform so that operators can easily manage their businesses from anywhere that they have an internet connection.
Now Is The Right Time To Launch A Micro Market
This micro-market platform also offers a durable metal enclosure and flexible mounting options for the tablet, plus with a low cost of implementation, operators can launch a micro-market just about anywhere, and offer their customers more than just a traditional beverage or snack machine.
Besides offering enhanced customer engagement options, and integrating with Seed, this platform also integrates with Yoke Pay, an easy-to-use app, that enables consumers to pay from their smartphones, and Yoke Portal, a kiosk management solution that operators can use to manage all of their micro-market locations from one portal.
To learn more about the Yoke micro-market platform, visit the Cantaloupe website at https://www.cantaloupe.com.