Azkoyen USA Offers The Vitro S1 MIA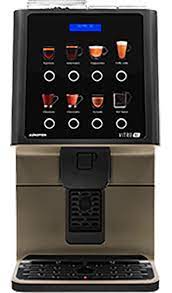 Azkoyen recently announced that they've added another coffee machine to their already successful Vitro line of coffee machines. The Vitro S1 MIA offers innovative micro-injection air technology that makes it possible for this coffee machine to offer fresh milk; an essential ingredient in coffee drinks like latte macchiatos and cappuccinos.
Fresh milk in a coffee machine is a 'game changer' because it means that coffee drinkers can enjoy a 'coffee shop-style' cappuccino, regardless of where the coffee is purchased.
With the MIA technology, the machine can also be programmed to produce the right consistency and density of foam, along with the most ideal temperature as well. This means that regardless of the country, that it's placed in, your coffee customers can enjoy a coffee, blended coffee drink will be made to their specifications.
Ideal For Any Location
Are you planning on offering a coffee machine to a gas station, hotel, convenience store, office, or restaurant in your area?
Thankfully, the Vitro S1 is also ideal for high-traffic locations as well because it can serve up to 80 cups of coffee per day, or offices that have up to 40 employees.
Easy To Clean And Maintain
Unlike some coffee machines that are difficult to clean and maintain, the Vitro S1 is quick, easy to maintain, and safe because the Azkoyen milk cleaning system has been verified by the National Center for Food Technology and Safety (CNTA).
If you want a coffee machine that's going to last, you can also have peace of mind that Azkoyen is an industry name that you can trust because they have 75 years of experience in the development of coffee machines and other innovations that are used in a variety of sectors worldwide.
According to Juanje Alberdi, CEO of the Coffee & Vending Systems and Payment Technologies divisions: "Presenting our products at CTW 2022 is crucial for the introduction of our brand in the USA as we continue to expand our philosophy and business model beyond our borders. More and more markets are being added to our internationalisation strategy and the American market is a key one for the company's expansion. At the Azkoyen Group we work tirelessly to continue to show the world our technology, our knowledge about consumers and our motivation to improve the business of operators while increasing the quality and innovation of our products."
Now available in USA. To learn more about the Azkoyen Vitro S1 coffee machine, visit their website at https://azkoyenvendingusa.com.