Our Healthbox, Canada's Healthcare Vending Machine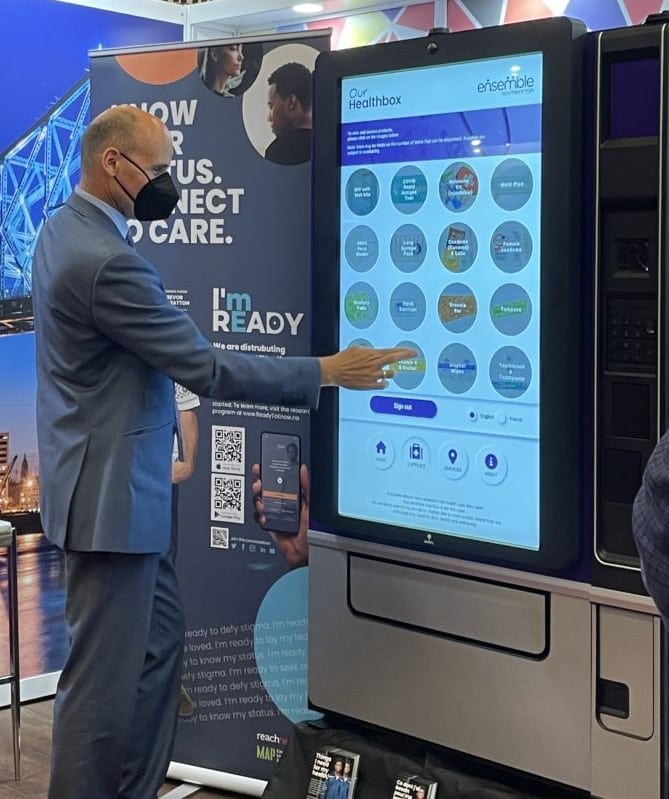 REACH Nexus Group, recently announced the launch of Our Healthbox, Canada's first smart, interactive dispensing machine, that will provide free 24-7 access to healthcare supplies like HIV self-testing kits, naloxone kits, and COVID-19 testing kits as well.

Since many people in communities across Canada are unable to see a medical professional, and are unaware that they have HIV, COVID-19, or other healthcare issues, Our Healthbox closes the gap and makes self-testing kits available to all.

Besides the self-testing kits, each Our Healthbox will also provide people with health information, including a support services directory if they want to take the next step and find medical help within their communities.

About Our Healthbox

Created by SMRT1 Technologies, the goal is to have 25-30 of these vending machines released in the first year, and 100 of these machines in communities across Canada within the next three years. Our Healthbox utilizes SMRT1 Technologies POD technology to deliver healthcare supplies in a convenient vending machine.

SMRT1 Technologies PODs have been in use across Canada for years, and they've also played a big role in providing supplies to communities that have been adversely affected by the Opioid crisis.

Closing The Gap

Working in partnership with health centers and public health authorities across Canada, Our Healthbox will improve HIV awareness across Canada since one out of 10 people in Canada currently have HIV and are unaware that they have it.

With the goal of 'meeting people where they are', REACH Nexus Group, and Our Healthbox, will certainly accomplish that goal, especially since residents of some communities don't have smartphones or access to high-speed internet to learn more about their medical conditions, but they can finally bridge that knowledge gap with Our Healthbox.

To learn more about Our Healthbox and how it's helping to bring muchly needed testing kits and self-care supplies to communities across Canada, visit https://www.ourhealthbox.ca/, email ourhealthbox@unityhealth.to.