Meals In A Vending Machine? Farmer's Fridge Expands In Cleveland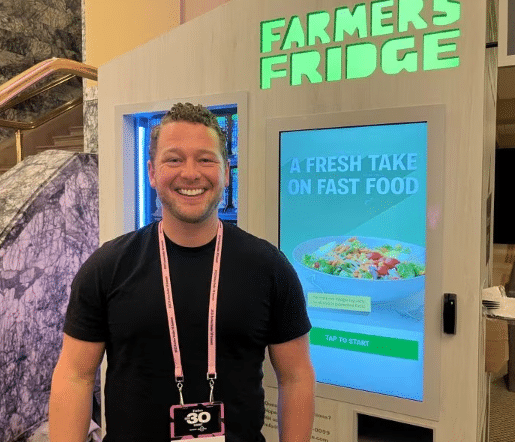 If Luke Saunders has his way, machines will take over the world.
OK, not machines everywhere, just a little niche of the culinary market, where Saunders' 10-year-old company, Farmer's Fridge, is installing vending machines with fresh, affordable meal options. And the Chicago-based company, which has about 300 employees, is in the process of adding more machines in Cleveland, which has plopped down in multiple locations within the past couple of months with 10 in hospitals, six airport fridges, one in Progressive Field as well as retail sales in Costco.
The Cleveland market, he said, could support 100 over the next two years.
The company says television foodie Rachael Ray named Farmer's Fridge the "world's smallest restaurant." That "restaurant" actually was born on the road, necessity again giving birth to invention.
That's because Saunders, previously a traveling salesman for a metal-finishing company, would drive about 1,000 miles a week, staying in places like Holiday Inn Express.
"So there were really no food options outside of fast food or gas stations whatsoever," said Saunders, in attendance at the Forbes Under 30 Summit in Cleveland this week. "(Occasionally) I'd get to stay near a grocery store and go buy fruits and vegetables. But the core idea was fresh food is very hard to find, especially affordable, tasty, convenient, fresh food. So what could I do to make that easier on people?"
With careful business planning and entrepreneurial guts, Saunders evolved his idea for a vending machine to deliver quality food as meals instead of the usual snacks.
"The vending machine is actually the most convenient form of foodservice," he said. "To put that in perspective, there's about 14,000 McDonald's in the U.S., about 40,000 Subways. There's 8 million vending machines. So more people will visit a vending machine every day to get something then will visit McDonald's, and McDonald's is something like 40 million people a day. So it's a lot. And so the idea was – 'OK, the vending machine works.' "
But Saunders spotted a problem: He saw a lag time between production and delivery of food to the machines by some companies. Solution: Build a distribution network.
"We decided that to really capture the full shelf life of the product, we would make the food, we would deliver the food and we would own the vending machine," he said. "I didn't know how crazy that idea was."
He took the plunge, renting a shared kitchen space in Chicago. Early on, he said, "We had enough money for two vending machines."
"So we set one up at a food court and one at a rest stop," said Saunders, originally from New Jersey. "And ultimately, you know, fast-forward 10 years, we have over 1,400 locations between fridges and retail. So we just crossed 1,000 fridges in the last few weeks. That's places like airports, hospitals, universities."
The company also has a retail component, with stores, stands and cafeterias throughout the country. Costco customers, Saunders found, tend to want something quick so they "bring it home and throw it in their fridge and eat it two days later, instead of packing lunch."
"The goal globally is make fresh healthy food as accessible as a candy bar, which means there's a lot more locations that need to be added to get to a million vending machines," he said.
Typically, he said, Farmer's Fridge starts with an airport or hospital system to achieve customer-traffic density. But the company also looks at hiring drivers, setting up equipment and ensuring service techs are in place to fix any issues that might arise.
The target location actually is "anywhere there are people who are hungry," Saunders said.
"We call it a fridge," he said. "OK, so for the first seven or eight years, I actually really pushed back on calling it a vending machine because to me it was restaurant-quality food, and the idea of a vending machine would cheapen that." But in the end, he said, it's a vending machine.
There's also an immediate sales pitch of sorts: People eat with their eyes, and the transparent containers offer a chance for folks to see if the lettuce looks fresh.
The focus is on whole ingredients, fruits and vegetables, Saunders said. Salads are key, along with bowls that feature a variety of items like couscous. Breakfast items include chia pudding and Greek yogurt. Sandwiches and wraps are offered along with snacks like in-house made chips and guacamole. That means the company's workers make guacamole from whole avocados, and pico de gallo has no preservatives.
Food is made seven days a week in a full-scale USDA kitchen. Average per-product shelf life is seven days, he said. Napkins and plastic utensils are available in a nook on the side of the machine, and there's even a place for folks to recycle their containers.
"Everything is built around the product," Saunders said. "So we actually prep the ingredients in the morning. They start at 4 or 5 a.m. Their washing, they're chopping, they're shredding and cooking and mixing. And then the assembly is what we call the next shift comes in around 8. They take the raw materials that have been made up to that point. And they start making salads until six o'clock at night."
Then Saunders and staff run a "cost-function algorithm" to determine what will sell in what areas. From Chicago to Cleveland, items land within 10 or 12 hours, he said.
Ordering is intuitive: Tap a screen, scroll through the menu, make your choice. Most items are under $10, with the average cost being about $6.50, he said. It's about a 30-second process.
The company isn't positioning itself as a healthy-food product per se, he said, but "we want you to know that eating healthy can be easy. It can be affordable. And it can taste good. But it's not a health-food product. It's really about just having something that's tasty and convenient and affordable."
There's no better way to celebrate 10 years of Farmer's Fridge than with an interview with Al Roker on the TODAY show. Throughout this journey, there were many moments when I wasn't sure what I got myself into — but here we are 10 years later with 1,000+ locations across the country and the most hardworking & dedicated team that I could not do this without. https://lnkd.in/ghdpZTGb
For more information visit: Farmers Fridge