Chewy Chews Doggy Vending Coming To USA!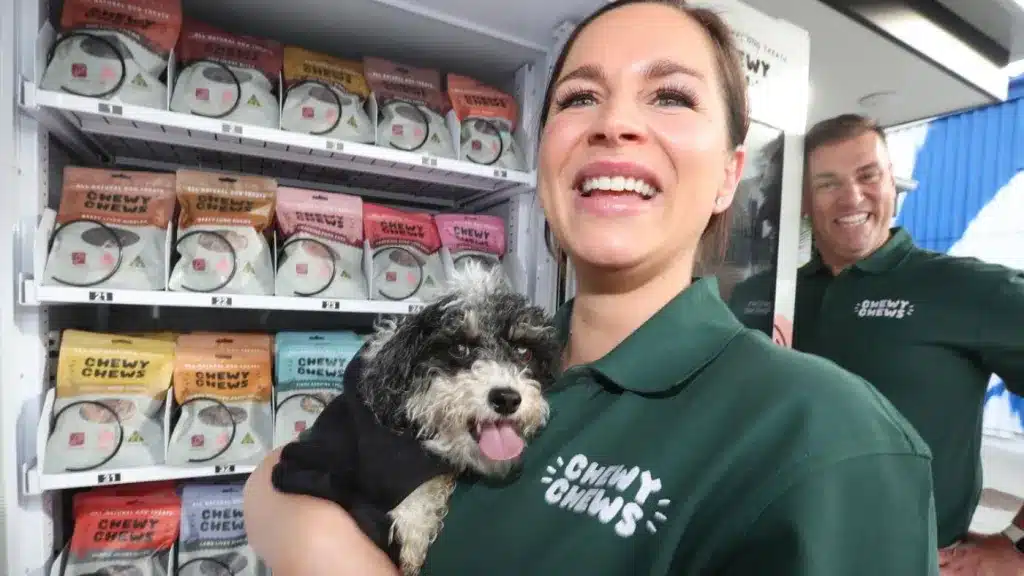 Massimo and Samantha Guida launched their first Chewy Chews vending machine from their new 24-hour laundromat in Austin St, Newstead, offering 32 different snack varieties including sardine, roo jerky, green-lipped mussels and pork.
Samantha Guida said people were increasingly looking for quality natural food to feed their pets, who are increasingly considered members of the family.
"Our products are all sourced from fresh meat and seafood and are slowly air dried," Ms Guida said.
The couple have installed one machine at their new Liquid Laundry business, which also includes a dog-wash, and one at Merthyr Village.
There are plans to roll out more across the country in the months ahead. "The reaction so far in this area has been great," said Ms Guida.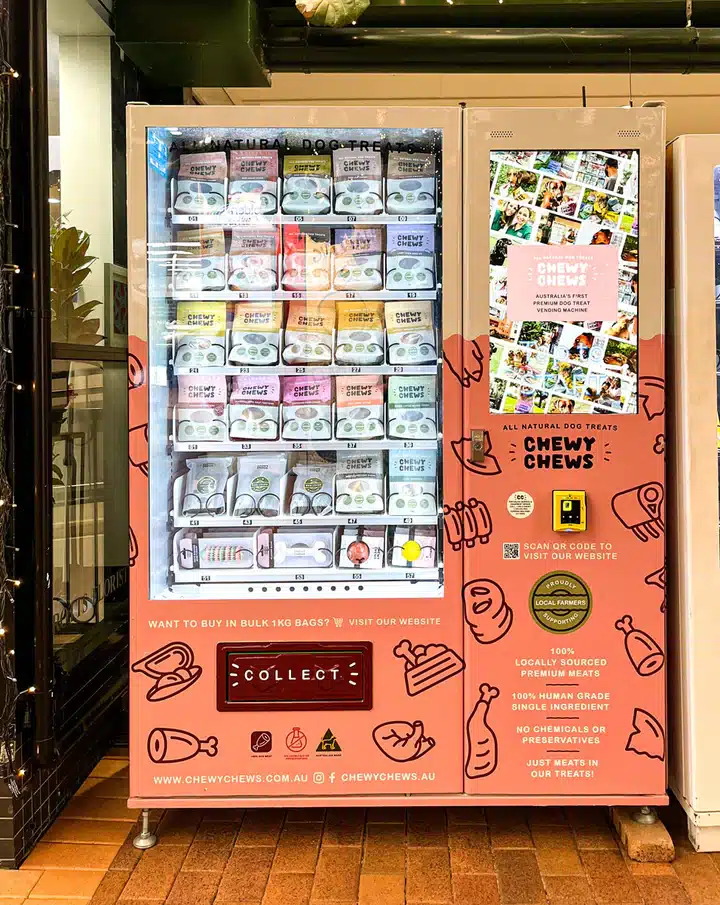 "We have had to refill the machine at Merthyr Village every day this week."
Massimo Guida, who runs an electrical firm along with a string of other businesses, said he got the idea for Chewy Chews when setting up the dog wash at the laundromat.
"The dogs can get nervous when getting their wash and what better way to reward them after their wash than with a natural treat," said Mr Guida.
The couple's business venture comes two years after Mr Guida purchased the Austin St property for $1.25m at an auction.
"I got it at a good price but it was an old upholstery factory full of asbestos and white ants," he said.
The Brisbane couple plans to roll out a network of natural doggy treat vending machines as they tap the $2.8bn pet food sector increasingly focused on top-end products.
We are expanding to the USA!!
After two years of success and more than 95 locations all around Australia, they are expanding to the USA. CK9 Pet Products is the USA national distributor helping Chewy Chews expand their brand into the US market.

USA – Please contact Sales@ck9petproducts.com, visit https://ck9petproducts.com/, Call 816-890-8982.
Australia – office: 1300 424 399, Visit https://chewychews.com.au/.

Australia's 1st Dog Treat & Toy Vending. Chewy Chews is a premium dog treat company that offers a delicious selection of healthy treats that cater to all breeds, of any size with a wide range of health conditions. Veterinary recommended, human grade, 100% natural with no preservatives or additives, whatsoever. Single ingredient treats that are locally sourced which support Aussie farmers and provide the highest amount of nutrients for fur babies. Available online or conveniently through vending machines found in over 95 locations Australia-wide and now selling their machines and products in USA.
---