Trade Show Display Racks, Fixtures, Exhibit Display Suppliers
Contact the Trade Show Booth Display Companies, Custom Display Rack and Fixtures Suppliers that are listed for more information on design, styles & pricing.
Also see: Signs, Vending Trade Shows, Vending Newsletter, Technology News,
POST YOUR COMPANY-Get New Business!
Company/ Website
Trade Show Display Company Services
Photo/Logo
Contact Info
Action Displays – Trade show displays and store display exhibit manufacturing. Help is here for your last minute emergency trade show needs. Free graphics with every display! Our Trade Show Display home office is in Harrisburg, Pennsylvania.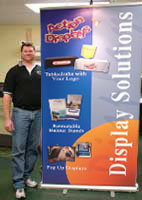 Allen Display – The complete source for Store Fixtures,
Visual Communications & Presentation Furniture. Order online today –   Established 1962 by Charles R. Allen – Survivor USS Minivet WWII
The Exhibit Network is a multi-medium marketing company specializing in providing your company with results. No matter the size booth; trade show schedule or venue; with over one hundred and twenty fabrication sites across the Americas we are more than intensive not only in producing exhibits, but more over the quality and price competitiveness enabling those results.
GestureTek is the natural choice for your gesture controlled digital signs and displays. From interactive floors, tables, windows, walls and kiosks, to Wii-like games and virtual reality environments, our award-winning, multi-patented video gesture control technology creates more engaging interactive experiences for your signs, displays and exhibits.
Also see: Vending Machine Manufacturers, Vending Parts, Snack Machines, Water, Micro Markets, Vending Companies USA, OCS, Locators, Wall Mount, Classified Ads, Routes for sale, News, Home,
POST YOUR COMPANY-Get New Business!