French Fry Vending, french fry vending Machines for sale, french fries vending equipment suppliers
FRENCH FRIES VENDING MACHINES FOR SALE. These French Fry Vending Machine Supply Companies are listed here. Please contact these vending machine suppliers direct for more information about their machines and products.
Also see: Vending Machine Manufacturers, Vending Machine Distributors, Food Brokers, Hot
Food Machines, Locators, Repair Services,
More Vending Machines: Soda, Snack, Combo, Can, Bottle, Glassfront, Hot Food, Cold Food, Frozen, Ice Cream, Product Distributors,
POST YOUR COMPANY-Get New Business!
Company / Website
FRENCH FRIES Vending Equipment Companies
Photo/Logo
Contact Info
HOT FOOD Vending Machines
REFURBISHED PIZZA VENDING MACHINES FOR SALE- CALIFORNIA–Hot Food Vending Machines and all parts included!! From frozen to fresh oven baked food in 90 seconds or less. 26 Refurbished Machines, and 4 or 5 R&D machines with no mileage (example… IHOP and Jack-in-the-box). These machines were produced by Hot Choice (KRH). ASKING ONLY $75,000 $39,000!!! Machines and large amounts of parts, are on pallets and ready to ship. Location ready. 

GREAT DEAL-MAKE OFFER-ALL OFFERS CONSIDERED!!!!


This machine has three cooking features to ensure hot fresh oven cooked food (micro to thaw, brick type 400 degree oven, and thermo air for browning).  Most of the machines are branded for pizza, but bring your own menu and serve anything you want. Easy to change out facings. I have business plans and forecasts for the entrepreneur that wants a SIX FIGURE INCOME. Call John 714-801-2059.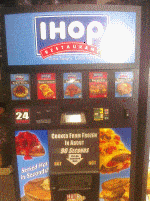 Also see: Associations, Distributors, Manufacturers, Vending International, Locators, Software, Suppliers Directory, Classified Ads, Routes for sale, Trade Shows, News, Home,
POST YOUR COMPANY-Get New Business!