Once Again Intros Graham Cracker Sandwiches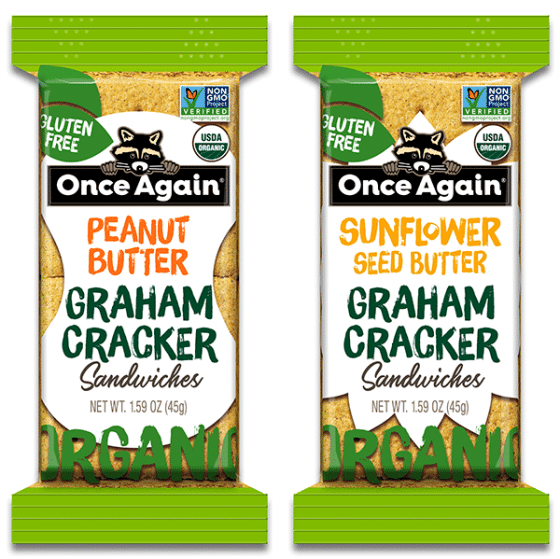 Thanks to Once Again, today's consumers now have a healthy and delicious snack that's made from 100% gluten-free graham crackers, and non-GMO ingredients. These graham cracker sandwiches contain two graham crackers with tasty peanut butter or nut butter in between them. 
Vegan And Kosher Certified
Besides containing non-GMO ingredients, these graham cracker sandwiches are also vegan, kosher certified, and are made from wholesome ingredients like organic oat flour, organic sorghum, organic sorghum flour, and dry roasted organic peanuts.
The product line is also vegan, Kosher Certified, Non-GMO Project Verified and part of the brand's Honest in Trade program.
Once Again's graham crackers are made with a wholesome blend of organic sorghum flour, organic oat flour and organic cassava flour, while the creamy filling is either dry-roasted blanched organic peanuts or dry-roasted organic sunflower seeds, with a classic cracker divider creating two sandwiches per package.
Coming to retailers nationwide starting in March 2022, a 1.59-ounce package of either graham cracker sandwich variety retails for a suggested retail price range of $1.69-$1.89 each, or $13.52-$15.12 per retail box of eight.
To learn more about this snack, visit the Once Again website at https://onceagainnutbutter.com, or call  585-468-2535.