LOCKER Vending Machine Suppliers
DELIVERY LOCKER VENDING MACHINES! Delivery Locker Kiosks are versatile and valuable to many businesses, since these lockers can "vend" any type of merchandise. Please contact the companies direct for more information about their used vending machines for sale.
Also see: SUPPLIERS DIRECTORY, Vending Machine Manufacturers,  Repair Service Companies, Distributors, Keys & Locks, Used Vending Machines,
Company / Website
Locker Vending Kiosks, Delivery Lockers
Photo/Logo
Contact Info
IVM, Inc. began in 1991 as a company dedicated to maximizing their clients' income and handling their distribution through high level technology. Throughout the years, IVM has grown and succeeded by staying true to that original goal. IVM now handles all supply vending responsibilities for our customers throughout the United States and internationally.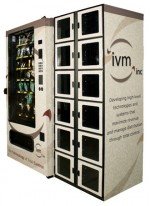 SALES: 800-676-8432
USA: 317-899-6787
Deliver Meals to Your Locations with Delivery Lockers Powered by USI and 365 Retail Markets. Provide streamlined, contactless food delivery and pick-up stations with our new Delivery Lockers. U-Select-It, a leading global vending solutions provider, is excited to introduce Delivery Lockers, powered by U-Select-It and 365 Retail Markets. Delivery Lockers provide streamlined, contactless food delivery and pick-up stations for the next generation of onsite delivery. Our Delivery Lockers are available with optional UVend Technology, our UVC sanitizing solution.