Chocolate Candy for Vending, Wholesale Chocolate Candies, Wholesale Chocolate Candy Suppliers
Wholesale CHOCOLATE CANDY PRODUCTS FOR SALE! These wholesale chocolate candy product Companies listed below. To find out more information about their chocolate candy and pricing, please contact these chocolate candy suppliers & manufacturers direct for more information about their chocolate products.
Also see: Trail Mix, Energy bars, Candy, Mints, Nuts, Nut Bars, Bulk Candy Products, Brokers, Product Distributors, Chocolate Candy,
Bulk Candy Vending Machines,
POST YOUR COMPANY-Get New Business!
Company / Website
Chocolate Product Company Suppliers
Photo/Logo
Contact Info
Baraboo Candy – Candy Manufacturers, chocolatier, fudge, cowpies, sugar free chocolates and candies.
Candy Nation is a wholesale candy distributor. Buy your vending candy online today at www.CandyNation.com. We specialize in bulk candy!

Goetze's Candy suppliers – Chocolate candies and Caramel Creams, Cow Tails and confections. The Goetze's Candy Company proudly manufactures ALL our candies in the GOOD OLD USA! Our factory has been located in Baltimore, Maryland since 1895.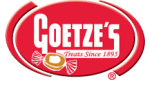 HERSHEY'S VENDING offers a variety of candy bars, value vend bags gum and mints. Check out our website at: www.hersheysvending.com
Just Born specializes in quality brand confections for the vending industry. Visit: www.JustBorn.com
Metro Candy
– Buying bulk chocolate from Metro Candy's selection of
wholesale chocolates
is sweet success for retailers. Not to mention how much bakers, candy makers and general sweet lovers will enjoy having bulk chocolate at their fingertips, whenever they need it. Our bulk chocolates are rich, delicious and ready to please with tempting chocolate favorites at irresistible wholesale prices.
Phone: 866-457-8668
Local: 631-546-7779
Tootsie Roll Industries, Inc.– Chocolate Products for vending, Tootsie Roll Brand products. Based out of Chicago, IL.
Local: 773-838-3400

Fax: 773-838-3569
Also See: Candy Products, Bulk Candy, Product Brokers, Chocolate, Crackers, Cookies, Nuts, Energy Bars, Snacks, Bulk Candy Vending Machines,
POST YOUR COMPANY-Get New Business!