Healthy Juice Drinks, Wholesale Juices for Vending and Micro Markets
Wholesale Healthy Juices and Juice Products Supply Companies! Please contact these juice drink suppliers direct for more information about their juice drink products and pricing.
Also see: Beverages, Fruit Snacks, Juice Vending Machines,
POST YOUR COMPANY-Get New Business!
Company / Website
Juice Suppliers for Vending Services
Photo/Logo
Contact Info
Campbell Soup Co. – We sell a variety of Juices, Juice drinks V8 Drinks, and much more!
Contact Bob Restivo, National Vend Manager.
Everfresh – 100% fruit juices and juice drinks. Fruit flavored waters. Juice and tea refreshments.
THE GREAT SPIRIT COMPANY offers Healthy Beverages, Water, Tropical juices & Teas enhanced with Aloe cubes, Sabila crystals and Ganoderma Lucidous. Health Drinks for your vending machines and micro markets! Contact us today for special pricing- shipping USA!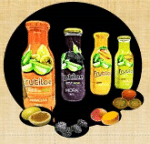 Juice Bowl Products Inc. PET pure juice, juice drinks and juice blends. Whitlock Packaging Corp, in Lakeland FL.
Phone: 863-665-5515
Fax: 863-667-7116
Ocean Spray Cranberries Inc. – Cranberry and grapefruit juices and juice blends.
Phone: 508-946-1000
Fax: 508-946-7706
Snapple Beverage Group – Snapple Drink products, Mistic, Stewart's, Orangina, Natucket Nectors and Yoo-Hoo. Visit our website to view more: www.Snapple.com
Phone: 80-696-5891
Local: 914-397-9200
Fax: 914-397-9220
Twang – Fruit drink beverage and a wide variety of quality  juice products by Twang: visit website at: www.Twange.com
Welsh's sells a wide variety of Welsh's Juice Brand Products. Can be used in vending machines! www.Welchs.com
.
Also See: Wholesale Beverages, Soda, Water, Energy Drinks, Drink Mixes, Coffee & Tea, Water, Brokers, Vending Suppliers Directory, New Products, Home
POST YOUR COMPANY-Get New Business!