Toy Capsule Vending Machines for sale, Wholesale Capsule Vendors Machine Suppliers, Bulk Capsule Vendor suppliers


Below you will find BULK TOY CAPSULE VENDING MACHINES FOR SALE, these bulk toy capsules machine suppliers are listed alphabetically by company name. Please contact these companies direct for more information about their bulk toy capsule vending machines.
Also see: Vending Machines, Buy Bulk Capsules, Bulk Candy products, Stickers & Tattoos, Toys, Bulk Gumball Machines, Gumballs, Stands, Stickers,
Click here to post your ad!
Company / Website
Bulk Capsule Vending Machine Company Description
Photo/Logo
Contact Info
A&A Global Industries is the world's largest supplier of vending machines and supplies. In business for 70 years, A&A supports the following product categories: gum, candy, plush and prize kits, superballs, toys, novelties, capsules, machines, stickers, temporary tattoos, and innovative POP displays.
Allstar Vending has been in the vending industry since 1989. We specialize in manufacturing our own Allstar sticker, gumball and capsule machines, as well as the stickers, tattoos, 3D puzzles and beanies that vend through these machines, USA and Canada.
Cardinal Distributing – Your Bulk Vending Warehouse!
Everything for the bulk vending operator! Machines and Products, Visit our website at:
www.cardinaldist.com
EAST COAST VENDING SUPPLY Is the leading Vending Machine and Vending Supply Company specializing in Gumball Machines, Capsule Machines, Bulk Vending Combinations, Filled Capsules, Gumballs, Candy, Mints, Nuts, Crane Mixes, OTC Medical Supplies, Vending Tattoos, Vending Stickers, Superballs, Crane Machines, Snack and Soda Machines.Serving the entire USA!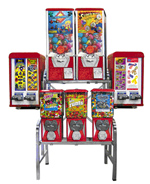 Sega Manufacturing – Century Super Prize Capsule Vendor suppliers. Ask for Angie Olsen.
Phone: 815-297-9500
Fax: 815-297-1700