San Diego Vending Machine Services, San Diego CA vending machine companies, San Diego vending suppliers
Company / Website
San Diego Vending Machine Services
Photo/Logo
Contact info
ACV Vending Services-1 We provide a full line of vending machines in your place of business FREE, and donate proceeds to your favorite charity! Types of Machines: Snack, Soda, Bottled Water, Coffee, Food, Healthy Vending Machines, High quality machines and products with excellent service. Call 1-800-454-2454!
Visit our website: www.charitablevending.com or visit our other charity website at: www.Vending4pets.com.

Brec Vending – Full line vending machine services in San Diego County.
Coast Vending, Quality Vending machines services, company is based out of San Diego, California.
Coastline Vending Inc. offers a complete vending line of snacks, candies, pastries, sodas, water, and coffee in San Diego County. We customize our products to your particular needs and deliver them on schedule. We keep our vending machines in pristine condition and guarantee same day technical service. There is no cost to you for equipment or service. Company based out of San Diego, California.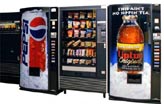 Phone: 858-610-8363
Fax: 858-549-8061
G&K Vending Services – Vending Machine placement and repairs. San Diego.
Rainbow Vending provides a complete line of state of the art snack, soda, coffee, and food equipment filled with name brand items from companies like Pepsi Cola, Coca Cola, Mars, Nestl