San Diego Vending Machine Services, San Diego CA vending machine companies, free vending machines

Contact the SAN DIEGO CALIFORNIA Vending Machine Service Companies listed below directly. (Southern California areas) These vending machine companies may offer these varieties of Vending Machine types: Snack, Soda, Combo, Food, Frozen Vending machines, Coin-op Amusement Games and more!
Also see: California Office Coffee Service, California State Vending, Vending Service Companies USA,
Click here to post an ad today- only $25!
Company / Website
San Diego Vending Machine Services d=Description
Photo/Logo
Contact info
ACV Vending Services-1 We provide a full line of vending machines in your place of business FREE, and donate proceeds to your favorite charity! Types of Machines: Snack, Soda, Bottled Water, Coffee, Food, Healthy Vending Machines, High quality machines and products with excellent service. Call 1-800-454-2454!
Visit our website: www.charitablevending.com or visit our other charity website at: www.Vending4pets.com.

Brec Vending – Full line vending machine services in San Diego County.
Coast Vending, Quality Vending machines services, company is based out of San Diego, California.
Coastline Vending Inc. offers a complete vending line of snacks, candies, pastries, sodas, water, and coffee in San Diego County. We customize our products to your particular needs and deliver them on schedule. We keep our vending machines in pristine condition and guarantee same day technical service. There is no cost to you for equipment or service. Company based out of San Diego, California.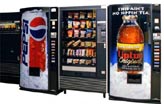 Phone: 858-610-8363
Fax: 858-549-8061
G&K Vending Services – Vending Machine placement and repairs. San Diego.
Buy your machines online and have them shipped or pick them up your self at our facility in Rancho Cucamonga, California. We have a 30,000 sq. ft building with hundreds of machines in stock! Used Vending machines and parts.