The New Incredivend Skittles Kiosk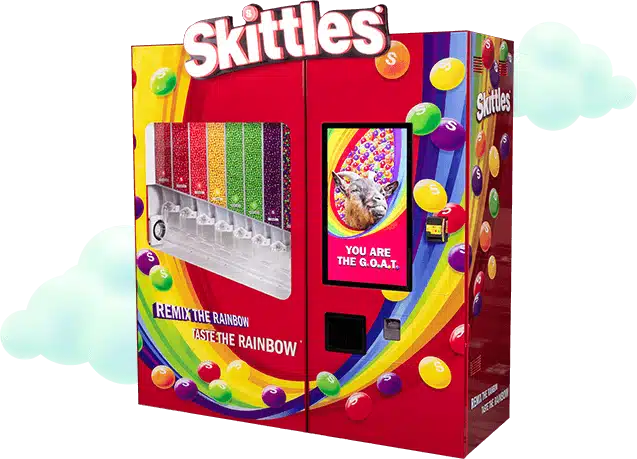 Get in early to be the first to offer INCREDIVEND…the newest and sweetest vending opportunity.
Financing Plans Starting At Only…. $188 Per Month!
Now is your opportunity to own an INCREDIVEND machine featuring MARS Wrigley Confections Skittles:
The most popular non-chocolate candy brand in the United States.
More than 200 million pieces of Skittles are produced every day.
70 billion pieces are produced each year.
Backed by one of the longest-running advertising campaigns ever.
High awareness and demand for Skittles are already done for you.
1. Venue Owners
Turn unused space into an immediate profit center. The Skittles Remix Digital Kiosks are easy to operate, eliminate product waste, and provide an awesome experience for consumers. The backend system makes it easy to control inventory and provides accurate sales information. Limited maintenance required allows you to focus on your venue while enjoying the benefits of letting the machine do all the work. Wait until your customers start blasting on social media your venue name and pictures as the only place to create their own Skittles Remix.
2. Vending Operators
Use our backend sales and inventory system to avoid unneeded service calls. Now you will know exactly when service is needed and what to bring. Service is quick and easy. Problems? Call our Service Line for immediate assistance.
3. Independent Operators
Looking for an additional income stream? Looking for exclusive rights for a territory? We can work with you on that as well. We have a growing list of locations that have expressed interest in the Skittles Remix Digital Kiosk. We can match you with one of these opportunities, handle all of the day-to-day operations and send you a monthly check with your profits. It's as easy as that!
For more information call 702-909-0905, email howard@incredivend.com, or visit website at : https://incredivend.com/.