So How Does a Smart Vending Machine Work?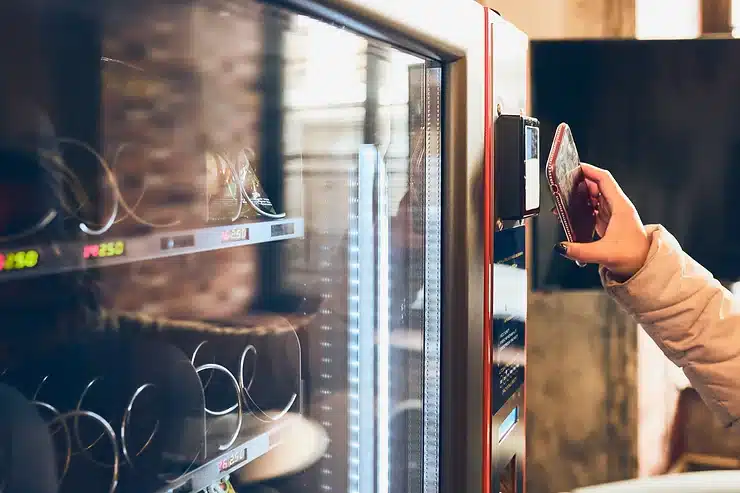 Placed mindfully in parks, cafes, gyms, schools and housing apartments, there is a high chance, a smart vending machine will turn out to be a delight box for someone. Often stocked with goodies like snacks, refreshments as bizarre as paan, and even t-shirts, cashless vending machines in India are gaining more popularity.
Reports estimate that by 2032, the global retail vending machine market will reach an estimated value of US$ 130 Billion, attracting multiple businesses towards it.
And within this mesh of changes surrounding smart vending solutions, is an unanswered question, "how does a smart vending machine work?"
Let us dive a bit deeper to understand how a smart vending machine works.
Within the mysteries of vending machine operations:
To understand how a vending machine works one has to take into account its type, customised features and the specific technology used while making it. However, on an all-around spectrum, there are two types of vending machines in India:
Traditional cash or coin-operated vending machine
Smart and cashless vending machines.
This divergence stems from the user perspective or the way the customer interacts with the vending machine to complete a transaction.
How are Smart Vending Machine Operations Different from the Traditional?
In the case of a traditional vending machine, it is all about the spare change. The consumer is required to insert coins as per the product cost, press the right button and collect the product at the end. With little advancement in technology, these machines were soon customised to accept cash payments as well.
Some of the earlier vending machines like tea and coffee vending machines or soda vending machines in the early 90s were coin-operated. These machines mostly had spiral holders that would move in order to dispense the product.
Such vending machines worked unsatisfactorily as the coin often got stuck within the machine and made it a nil transaction. Moreover, it was difficult to refund the amount to the consumer instantly.
Then arrived the smart-cashless vending machines. These technology-driven smart machines permitted cashless transactions via multi-channel payment methods. Currently, digital payment gateways like credit/ debit cards and UPI are available on all smart vending machines in India powered by Vendekin Technologies.
The consumer needs to scan a QR code which will direct them to a web app page, where a catalogue of products appears. After selecting the product/s through the web page, they can simply proceed to pay digitally by scanning a QR code on the vending machine.
Making Life Easier: Smart Vending Machines
This wave of advancement has also allowed the customer to experience a more inclusive retail experience with minimal physical contact and shopping time, giving rise to contactless vending commerce.
Additionally, it allows the consumer to select multiple orders and pay a cumulative sum in the end instead of purchasing one product at a time.
Smart vending machine software like vNetra by Vendekin, also helps businesses track inventory levels, vending machine operating status and collect data on consumer buying patterns and much more. These kinds of benefits have made many big FMCG players like Coca-Cola and Haldiram switch and buy smart vending machines.
Source: Vendekin
Also see: Suppliers Directory, Technology News, Vending Machine Manufacturers