Lay's Introduces Bite-Sized Layers Chips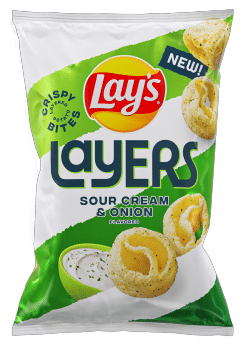 Lay's Layers are not your ordinary chips. They are multi-dimensional, one-of-a-kind potato bites with layers of crispiness. Bite-sized, flavorful and unlike anything Lay's has unveiled before, they deliver a truly new snacking experience.
"Lay's fans are known for finding joy in the everyday—no matter what life throws their way—and this multi-faceted approach to life helped inspire Lay's Layers," said Melissa Miranda, senior director of marketing, Frito-Lay North America. "Lay's Layers is a new offering in the Lay's portfolio that is just as multi-dimensional and flavorful as our fans' lifestyles."
The new Lay's Layers product line will feature two flavors fans know and love:
Three Cheese: A tangy and cheesy blend of cheddar, parmesan and gouda
Sour Cream & Onion: A savory blend of onion and sour cream
The two new Lay's Layers offerings are available at retailers nationwide beginning mid-month for $4.09 (4.75 oz. bag), $1.99 (1.75 oz. bag), or 2/$1.00 (0.5 oz. bag).
To learn more about Lay's and its newest Lay's Layers lineup, visit www.lays.com, or call 800-352-4477.
Also visit: Wholesale Chips for Vending, Snacks for Vending.