Why Switch To An EMV Card Reader? from Nayax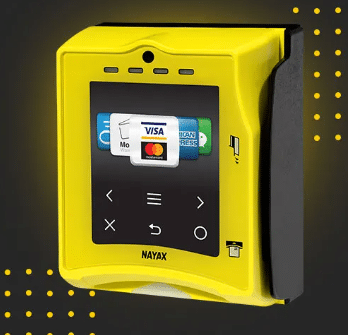 Are you planning on investing in an EMV card reader for your business? If so, the Nayax EMV card reader offers you a secure cashless payment solution that will benefit your business because you be able to offer your customers contactless payments. 
EMV (Europay, Mastercard and Visa) are the new standards for payments in the 2020's that have replaced 'old school' credit and debit cards because EMV cards come embedded with microchips that encrypt data and prevent fraud. 
Reduce Fraud Liability
Let's face it, fraud is becoming more of a problem for businesses than ever before because criminals are utilizing the latest technology each year to make a quick and easy profit.
With the Nayax EMV card reader, a business owner can reduce their fraud liability significantly because if any fraudulent transactions occur, the liability for those fraud charges will fall on the bank and not the business.
The Nayax EMV card reader comes with increased security and since the card reader, along with the chip card are more secure, a business owner can have peace of mind in knowing that they can accept more cashless payments while increasing their revenue.
Convenience
Yes, EMV card readers are by far the simplest and most effective way to complete a transaction because all a customer must do is swipe or insert their card to make a payment, plus they can also use their phones to make payments as well.
Here are some of the benefits of an EMV reader:
Increase your machine revenue
Accept every payment method
Reduce operational costs
Management platform
24/7 remote monitoring & telemetry
Loyalty program
Minimal Maintenance
To learn more about EMV card readers, shop Nayax, visit https://www.nayax.com.