Vendist Expo in Turkey, Jan 11-13, 2024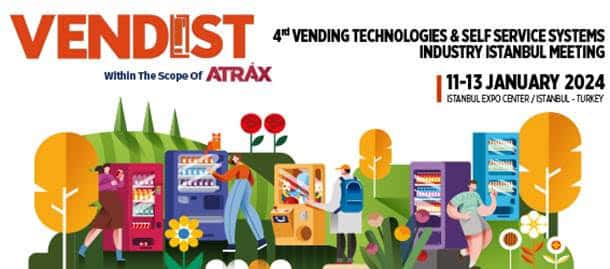 Vendist Expo, the premier event for the vending industry in Turkey and surrounding countries, is set to celebrate its 4th year at the Istanbul Expo Center from January 11th to 13th, 2024. Vendist promises to gather leading professionals, manufacturers, suppliers, and buyers, serving as a vital platform for business opportunities and showcasing the rapid growth of the sector. 

As the only exhibition of its kind in Turkey, Vendist Fair has established itself as a must-attend event for anyone involved in the vending industry.

With Turkey and its neighboring countries representing a significant potential market, the  show provides an ideal setting for networking, exploring emerging trends, and discovering innovative vending solutions. The vending industry is experiencing remarkable growth, driven by the increasing prevalence of vending machines and the convenience they offer. Vendist Expo plays a crucial role in meeting the region's business potential by connecting industry stakeholders, fostering partnerships, and showcasing cutting-edge vending technologies and products. 

"We are thrilled to announce the upcoming Vendist Expo, which will bring together the vending industry's brightest minds and leading companies," said  Nergis Aslan Exhibition Director of Vendist Expo. "Over the past three years, we have witnessed the growth and development of the vending sector in Turkey, and we are excited to continue supporting its expansion by providing a platform for knowledge sharing and business collaboration." 

Attendees can expect a diverse range of exhibitors representing various segments of the vending industry, including vending machine manufacturers, suppliers of snacks and beverages, payment solutions providers, and technology innovators. Vendist will also feature informative seminars, workshops, and demonstrations, covering topics such as market trends, consumer behavior, and sustainability in vending. Vendist Expo 2024 is an unmissable opportunity for professionals and businesses seeking to stay at the forefront of the vending industry.

Whether you are a vending machine operator, a supplier, or an industry enthusiast, this event will provide valuable insights, networking possibilities, and access to the latest advancements in vending technology.
Also see: Vending Trade Shows.