DMVI's Smart Vending Machine Solutions For Product Delivery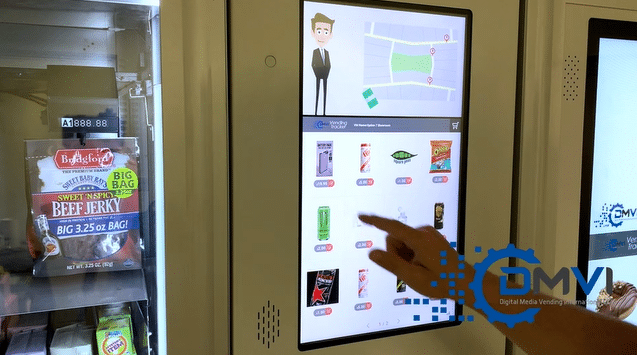 Vending machine technology was rapidly advancing and providing consumers with more options than ever before including touchless screens and multiple cashless payment options.  Thanks to Digital Media Vending International, LLC (DMVI) vending businesses have been able to reach more customers, and have a presence in multiple types of locations, using smart vending machines technology, not only in USA but worldwide. 
Smart Vending Machine Ideas
Is your product big and bulky, or small and fragile? A smart vending machine can assist your vending machines to easily distribute many types of products to the consumer. 
All smart vending machines designed by  DMVI include; conveyor belts, spirals, and hangers, but what's best of all is that each machine contains a product elevator which ensures that products don't fall once they are ordered by customers. 
These smart vending machines can also be retrofitted with a heated cabinet, or refrigeration, so the vending machine can distribute warm or cold food to your customers. 
One of the many features that make these smart vending machines unique is their "virtual shelf" option that gives customers the ability to see what the machine offers, on the 145" of shelf space, from the machine's 42" touch screen. 
OPTIONAL FEATURES
Smart Touchscreens 21″, 42″ or 50″
Conveyor belt and elevator delivery systems
Spirals, tractor motors or hanger trays
Automatic delivery door
Keyless entry & user management/control
App Connectivity and Control
Inventory status control
Remote product and price management
API Sockets for 3rd party applications
Remotely managed digital signage with video analytics
Motion sensors that trigger sound effects or actions
Product delivery sensors
Facial recognition, age and gender recognition
Custom Touchscreen UI's
Remote Payment Interfaces
Full telemetry
Social networking
QR and 2D code scanning
Multiple language support
MDB/DEX/ccTalk vending machine controllers
Remote security CCTV
After a customer orders a product from the vending machine, it will be delivered safely via the product elevator, and the machine sensors track product delivery so that the machine owner/operator will always know when products are delivered. 
TYPES OF CUSTOM VENDING MACHINES
COMPACT Wall Mounted Vending Machines
GIANT Vending Machines
Smart Vending Machines
Beverage Vending Machines
Outdoor Vending Machines
Custom Vending Machine Design
Interactive KIOSKS
Electronic LOCKERS
PPE Vending Machines
Vending Machine Controllers
The Right Solution For Growing Your Company  

DIGITAL MEDIA VENDING INTERNATIONAL designs and manufactures custom vending machines and automated retail solutions. We love to innovate and work with you to develop new concepts and ideas, to bring vending machine technology into the 21st century. Whether you are an entrepreneurial start-up, an experienced operator or a household brand we'll give you something that'll set you ahead of the pack. With offices in the United States, UK and Hong Kong.
To learn more about their smart vending machines, contact them today by calling (800) 490-1108 or visit their website at www.digitalmediavending.com, contact@digitalmediavending.com