DAVIS' SIDE HUSTLE MAKES MONEY WITH $250 VENDING MACHINE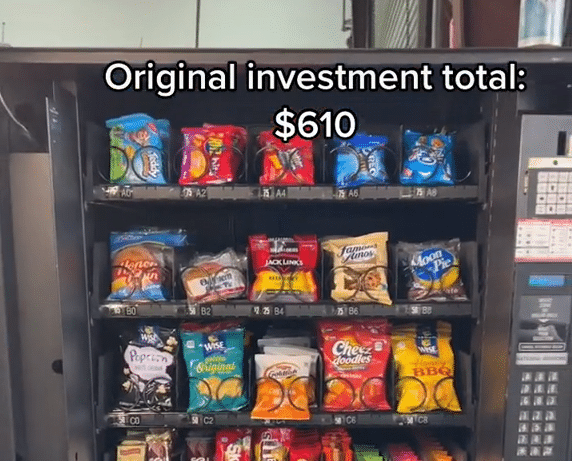 This couple is going viral for buying a vending machine as a side hustle. TikToker Jade Davis posted a video of the pair stocking their newly bought, refurbished machine. It quickly racked up over 2.9 million views. People were curious about what it meant to own and operate a vending machine business. 
DAVIS' SIDE HUSTLE MAKES MONEY WITH $250 VENDING MACHINE
Davis explained they got the machine for $250, purchased a $45 Sam's Club membership and stocked the machine with $315 worth of snacks.
That meant their upfront investment was only $610 — not too bad since vending machines can cost thousands.
"My dad did this after he retired! He has about 10. Loves it, works little and loves visiting with the biz owners! Congrats!" someone said.
"My dad and I had a vending machine business! It makes great money if it's in a good spot! Also look into getting a drink machine!!! And sell cans!" another suggested.
"My parents owned a vending business for like 25 years. It's hard work but doable!" a user wrote.
"I'm buying this and putting it in my living room. These kids about to pay for these snacks!" one person commented.
"I've been wanting to do one of these so bad but with like nonconventional items!" a TikToker replied.
In a follow-up, Davis said they earned about $153.60 in revenue after roughly three weeks. She said that they bought the vending machine from a previous owner and kept it in the same spot as him.
It's also why they plan on keeping their prices low at around $0.50 for the time being. They don't want to anger their regular customers.
---
#vendingsuccessstory
Also see: Vending Companies USA, Suppliers Directory, Vending Start Up Ebook,