New Brunswick Vending Machine Company Services, New Brunswick NB vending machine Suppliers suppliers

Below you will find listings of NEW BRUNSWICK CANADA Vending Machine Suppliers, New Brunswick Vending Companies that offer: Snack, Soda, Drinks, Coffee Food, Deli vending machines, Micro Markets, Coin Operated Amusement games, Machine Repair Services and more!
Also see: Vending in Alberta, British Columbia, Manitoba, New Brunswick, Ontario, Quebec,
Canada Vending Directory, Office Coffee Service Directory,
Click here to post your company for only $25 per month!
Company / Website
New Brunswick Vending Machine Services
Photos
Contact info
Boyd's Vending Ltd.
Boyd's Complete Vending Services – Vending machine service company. Based out of New Brunswick, Canada.
tel: 506-472-1219
Brown's Vending
Brown's Vending – Coffee, Snacks & Cold Drinks Locally Owned Quality Products & Dependable Service. Snacks, Soda, Drinks, Candy, Food, Healthy Vending Machines and more…Based out of Fredericton.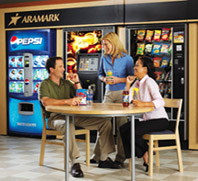 tel: 506-458-9985
Can-West Vending – A Canadian Company serving Western Canada since 1983!
tel: 800-463-8363
Global Vending
Global Vending – Full Line Vending services based out of Fredericton.
tel: 506-454-7675
The Winfield Entertainment Group,
headquartered in Burnaby, British Columbia, is a consortium of companies whose primary business focus, involves the supply and service of coin operated entertainment equipment, as well as product vending equipment.