North Dakota Vending Machine Company ND, North Dakota FREE vending machine suppliers

Below you will find NORTH DAKOTA Vending Machine suppliers, listed in alphabetical order by company name. Please contact these vending machine companies direct for more information about their vending services.
Also see: Office Coffee Service North Dakota,
Click here to post ad only $25 per month!
Company / Website
NORTH DAKOTA Vending Machine Company Services
Photo/Logo
Contact info
ACV Vending Services- We provide a full line of vending machines in your place of business FREE, and donate proceeds to your favorite charity! Types of Machines: Snack, Soda, Bottled Water, Coffee, Food, Healthy Vending Machines, High quality machines and products with excellent service. Call 1-800-454-2454!
Visit our website: www.charitablevending.com

Behms Vending
Behms Vending & Games - Full Line Vending, Drinks, Snacks and Amusement Services based out of Grand Forks, North Dakota.
Phone: 701-772-3272
Braun Distributing
Braun Distributing Inc – Vending machine distribution service company. Including snacks, foods, and office coffee. Company is based out of Dickinson, North Dakota.
Phone: 701-225-1230
Break Time Vending
Break Time Vending Services – Office Coffee Service and vending services, Based out of Fargo, ND
Phone: 701-281-3487
Continental Vending
Continental Vending Inc - Snack, Candy, Food Vending Machine services, based out of Grand Forks, North Dakota.
Phone: 701-775-6591
Del-Mar Vending has been providing our customers with the best vended snacks, pop, coffee, and food for over 35 year! We cover central North Dakota including the towns of Bismarck, Mandan, Beulah, Washburn, and Jamestown.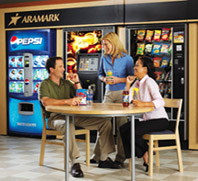 Four Seasons Vending – We offer all kinds of vending equipment and cashless payments through PayRange. We carry a wide range of products to suit a variety of budgets and tastes. Also offering the Fit Pick Healthy Vending Program to locations that care about their employees health. Locally owned and operated servicing the Fargo, West Fargo, Moorhead communities.
G&P Vending
G & P Vending – We are a Full line Vending Machine service company, based out of Fargo, ND.
Phone: 701-235-3900
Happy Time Amusement
Happy Time – Pinballs, Juke Boxes Darts, Pool Tables & Videos, Leasing & Rental Plans. Call For Details! Wishek, ND.
Phone: 701-452-4226
JD Vending - Devils Lake, ND
Nugget Vending- We offer a variety of vending machines that has everything from cold and hot beverages to name-brand snacks and cold food (for locations with 100 or more people). Nugget has machines that sell both Coca Cola and Pepsi products, in either 12oz. cans or 20oz. bottles. For locations with 30 or more people, Nugget Vending offers a variety of machines and will keep them stocked at no cost to you! Based in Fargo, ND

S&R Vending
S & R Vending Co – Vending machine services, our company is based out of Wahpeton, North Dakota.
Phone: 701-642-5909
Wayfer Vending
Wayfer Vending, we are based out of Bismarck, ND. offering vending machine services: snack, soda, coffee service & more!
Phone: 701-222-1770