IWON Organics Protein Puffs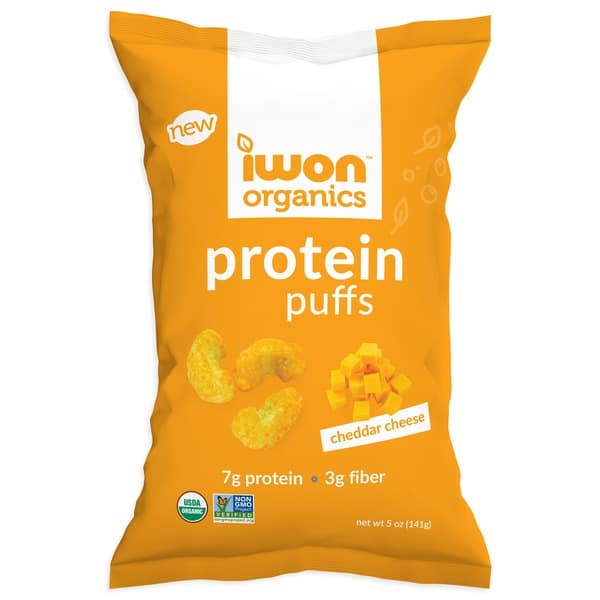 IWON Organic Protein Puffs, consumers can have confidence that they are enjoying a quality snack that's high in protein, 100% organic, and has all-natural ingredients. 
The demand for healthy snacks is on the rise in 2021 because, since the start of the Pandemic, more consumers want to snack but they also want to have confidence in the quality of the snacks that they are consuming. 
About IWON's Organics Protein Puffs
Traditional cheese puffs are a delicious snack, but in 2021 they are often made with ingredients that many people want to eliminate from their diets.
IWON Organics protein puffs, consumers who try these puffs can have confidence that they contain absolutely no soy or gluten, and they are also made from kosher ingredients as well.
Consumers who have enjoyed cheese puffs in the past will enjoy IWON'S take on the classic cheese puff because they have the same cheesy taste while also having 10 grams of protein, 5 grams of fiber, and one gram of sugar per serving.
At 180 calories per serving, these cheese puffs are an ideal healthy snack because they taste great and provide consumers with protein to sustain them work or play.
Perfect For On The Go Snacking
In today's busy world, almost everyone is eating something on the go and the sad thing is that most people who eat on the go don't consume enough protein.
When a consumer enjoys IWON's Organic Protein Puffs, they can have confidence that they are going to get the protein that their body needs from this healthy snack while also enjoying something that tastes great at the same time.
Created by Mark Samuel, a lifelong health and fitness enthusiast, these cheese puffs are certainly something that you should consider adding to the snacks that you are offering your vending or micro market customers.
To learn more about IWON's Organic Protein Puffs, visit their website today at https://iwonorganics.com.