Why FrameWorks Displays?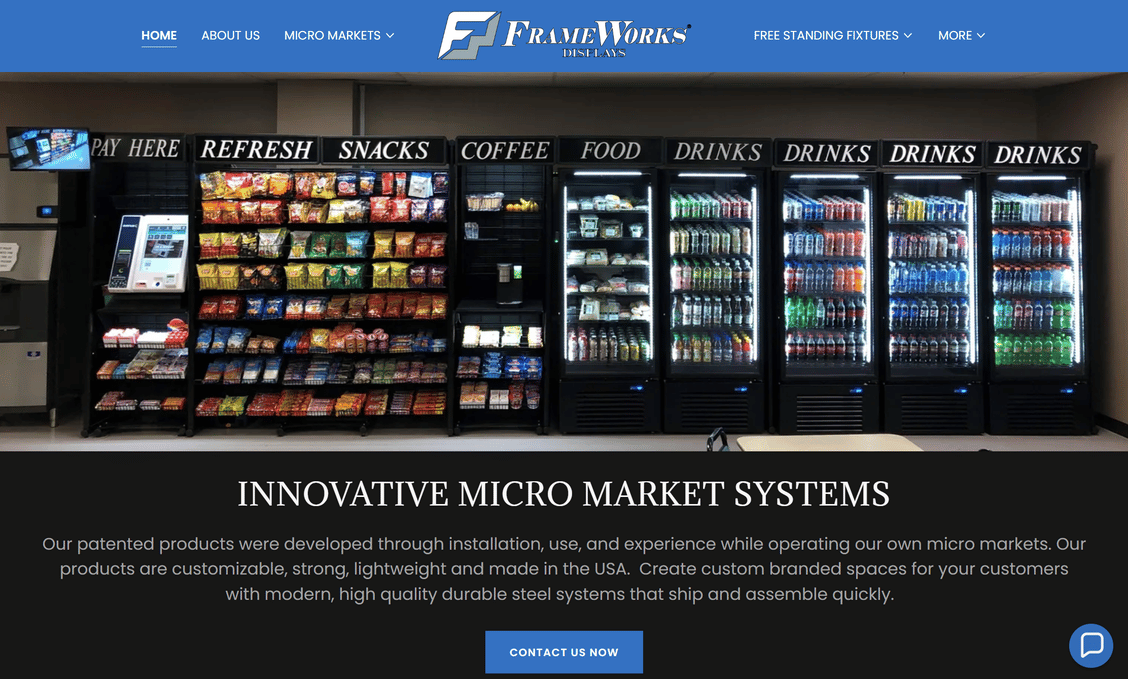 Searching for the right company for your micro-market displays? If so, it's time to consider FrameWorks Displays, an Iowa-based company dedicated to serving the needs of micro-markets nationwide.
FrameWorks Displays hasn't just been creating displays and good quality fixtures since the early 2000s, the company has been in the vending industry since 1955, as a distributor for a major soft drink brand, and they understand the needs of vending companies.
The Right Display Sets a Great First Impression
From the moment that a customer steps foot in a micro market, they know if they will want to come back for foods and beverages again or go somewhere else because the product should be displayed so they can easily grab and go.
When you use FrameWorks Displays for your micro market, you can have peace of mind in knowing that their custom-branded spaces will create the right first impression and they are made to withstand high foot traffic locations.
Each display made from durable steel that's strong, lightweight, and they are easy to assemble. This means that you can literally get your new display up just in time for the lunch rush, or people who are looking for their mid-afternoon snacks.
More Than Just Displays
Besides offering high-quality, custom-designed displays, FrameWorks Displays also offers a wide variety of additional solutions that micro markets need including signage, custom graphics, durable fixtures, and heavy-duty, multi-purpose steel tables that you can place a register or touch screen display on for checkouts.
Getting your micro market set up correctly is one of the most important parts of running a successful business and FrameWorks Displays can ensure that your micro market has the best displays that will generate ROI.
To learn more about FrameWorks Display, visit their website at https://frameworksdisplays.com or call (563) 263-9999 or email jasoncortez@frameworksdisplays.com.