Why CoolBlu Coolers?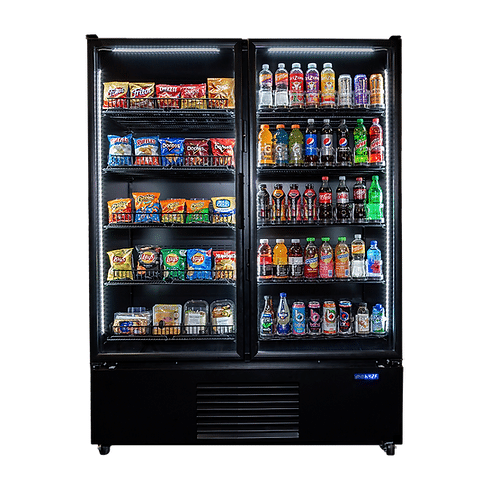 One of the keys to success with a micro-market is choosing the right cooler, and depending on the space where your micro-market is placed, you may be only able to place one cooler at that location.
With CoolBlu, you can place food or beverages in the cooler, while having peace of mind in knowing that those items will be able to stay fresh, and your customers will always be able to buy the products that they want.
Easy To Use Cooler
Built by Chicago-based Premium Product Group, this cooler also offers state of the art controls that can easily be used to program the correct temperature.
The locking system incorporates Blutooth technology so that the number of door openings and length of time that the cooler has been without power can be tracked remotely.
This cooler also offers a state-of-the-art control system that can be used to turn it into a beverage, or food cooler at a moment's notice, eliminating the need to invest in an additional cooler while making it possible for you to adapt your micro market to your customers changing demands.
Besides being a NAMA certified cooler, CoolBlu is also eco-friendly and easy to install. It also offers intuitive LED lighting, a reliable high-performance fan motor, efficient glass door, and an electronic thermostat.
According to the manufacturer, the cooler offers the lowest cost of ownership and will improve the ROI for small to mid-size locations.
Premium Product Group specializes in offering CoolBlu Coolers and supplies for vending and micro market businesses nationwide. The company is also a veteran-owned business with first-hand experience in the vending industry, a huge plus for operators because they know the solutions that business owners need that will create sustainable profitability and long-term growth.
To learn more about the CoolBlu cooler, visit their website at https://www.premiumproductgroup.com or call (847) 709-6299, info@premiumproductgroup.com