What is PerkUp®?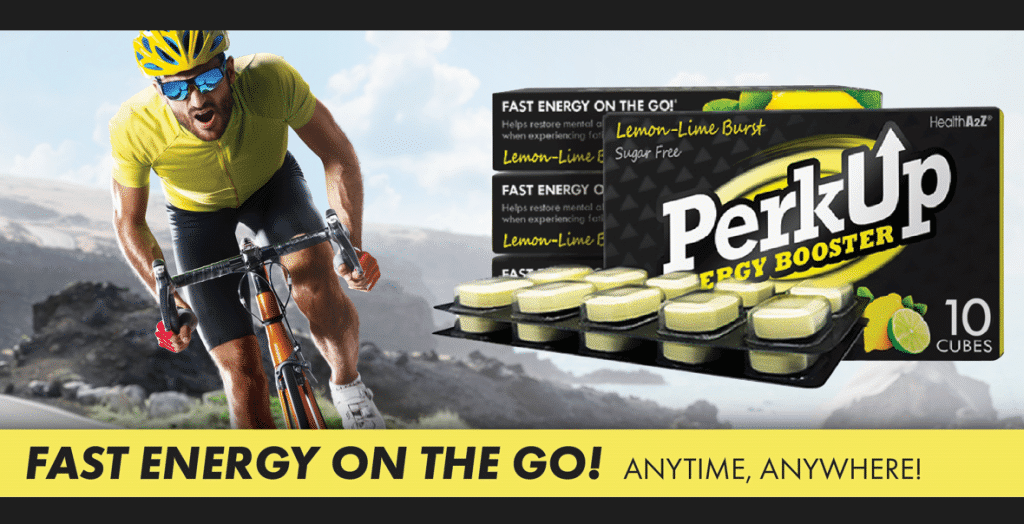 PerkUp® is a unique energy booster that dissolves in your mouth to provide quick energy for hours. Made with natural green bean caffeine and loaded with B vitamins, PerkUp® is the perfect choice for a healthy dose of extra energy. It is the perfect solution when you are on the go or just need a quick pick me up. No jitters – no crash. Just the right amount of energy.
PerkUp® is available in two great flavors, Lemon-Lime Burst and Strawberry Shock, with more flavors under development.
PerkUp® Benefits
Sugar & GMO Free
Vegan friendly
Zero calories
Natural caffeine
Contains B vitamins
Tastes Great
Fast acting
Easy to carry
Does not require refrigeration
The perfect Partner for Vending, Convenience and Micro-markets.

PerkUp® is provided in a small profile, low cost/high margin, 10 count package. The product does not require any special handling or storage. Put it in your vending machine or on your counter and let it sell itself.
Who are we?
We are an FDA regulated company, manufacturing and distributing OTC health and nutraceuticals for over 25 years. With a proven track record for successfully launching over 200 products domestically and internationally, we have the experience, supply chain, and marketing capabilities to help you grow your sales.
Visit website at PerkUpEnergy.com
For more information or samples, please contact:
Call Garrett Athenas at 631-940-9000 – ext 139, or email dporti@allegiant-health.com