Vive Supplies Canada with Healthy Vending Machines
Want to offer your vending customers more than just drinks and snacks? Vive Vending Machines give operators the option of offering healthy choices from their high-capacity vending machine that also offers a dual zone temperature system.
Available in Canada, Vive vending machines are not hard to miss because they come with bright graphics and an eye-catching LCD display. This means they  are an ideal fit for public spaces and businesses of all sizes where there is a demand for healthy, fresh foods that can be eaten while on the go. 
What's most important is that these vending machines also offer customers every possible payment option including credit, debit cards, phones, and other smart devices so that your customers won't walk away from the vending machine empty handed because they couldn't pay.
Offer Healthy, On the Go Meals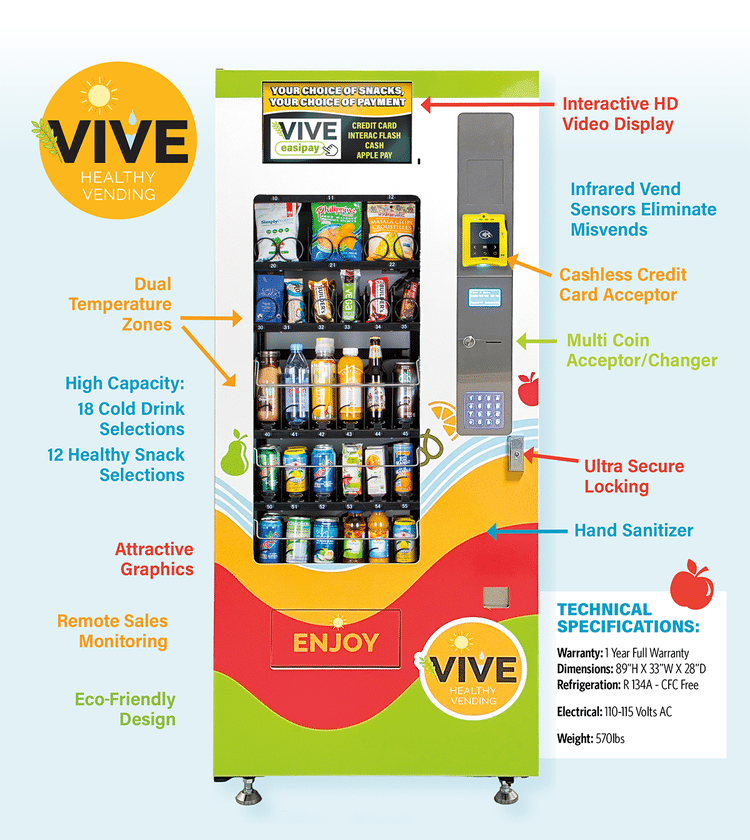 In today's busy world more people are eating on the go than ever before and for the operator, that means opportunity, because most consumers who are eating on the go want more options than typical fast-food options.
When you have a Vive vending machine, you can offer healthy drinks, snacks, sandwiches and other freshly made meals right from this vending machine.
This high-capacity vending machine will certainly catch the eye of customers regardless of where it's placed but what's most important is the Vive Vending Machine can be managed remotely from any wireless device.
Burglar Resistant
Having a highly efficient vending machine is ideal but nothing else matters if it's not secure right?
These machines are designed to deter thieves because they come with a multi-point secured door and a burglar resistant lock.
Besides being safe and secure, you can also earn extra revenue by running ads or offers from other businesses by allowing ads on the HD video displays.
To learn more about Vive vending machines, visit their website at https://www.vivevending.com, (604) 630-5801, info@vivevending.com.