Vendekin Technologies Partners with Cantaloupe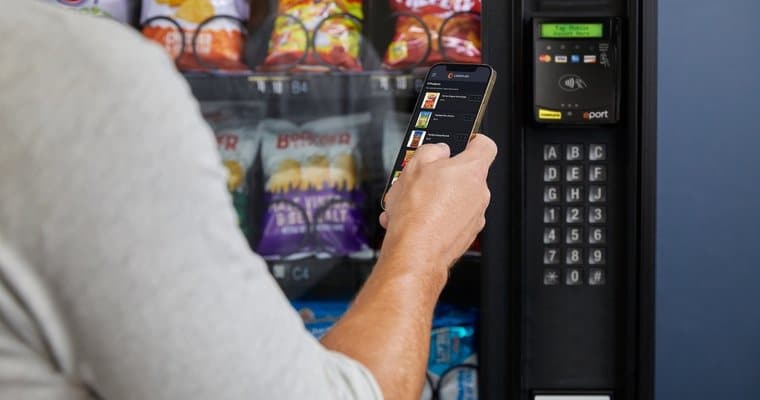 Vendekin Technologies, a pioneer in unattended retail technology solutions, announced it has partnered with Cantaloupe Inc., a world leader in autonomous retail payment and software solutions. As part of the partnership, Cantaloupe has integrated Vendekin's Retrobox, a patented hardware-enabled SaaS product to make vending machines touchless and smart, supporting frictionless experiences for consumers.
Cantaloupe is transforming the autonomous retail industry by offering an integrated solution for payment processing, logistics and back-office management. In partnership with Vendekin, Cantaloupe's new touchless vending experience will now be available to its customers as an add-on to their existing vending machines. Consumers will be able to scan the machine's unique QR code, select items from a menu of all the offerings in the machine and pay for their selection, all from their smart phone or via Cantaloupe's ePort card reader. This new functionality uses a mobile browser app, and requires Cantaloupe operators who sign up for the offering to pay a monthly fee plus a one-time device purchase.
Ravi Venkatesan, COO, Cantaloupe Inc., said in the announcement: "Our partnership with Vendekin enables us to offer a completely touchless and mobile experience to our existing and new vending machine operators. With consumers increasingly preferring touchless and cashless experiences, especially post COVID-19, we believe this continues to deliver on our promise to enable consumers a wide variety of payment options."
Aroon Khatter, founder and CEO, Vendekin, said in the announcement: "We are excited to join hands with Cantaloupe, a leader in the software and payments space in unattended retail. It is a matter of great pride for us that a company of their stature and legacy has decided to include our product as a part of their offerings. This validates the years of effort that has gone into creating our solution. With the global vending industry increasingly going touchless and towards mobile payments, we are confident that operators across the globe will find the combined experience valuable and apt for the times."   

About Vendekin
Vendekin Technologies is India's leading hardware-enabled SaaS company, which aims to democratize the global unattended/unmanned retail market. The company provides its proprietary technology solutions to a rich depth of partners/customers. From customized private labelled technology solutions to large multinational companies to helping small vending operators digitize their business, Vendekin's solutions are reliable, flexible and agile. With multiple patents in the U.S., UK, EU and India, Vendekin is at the forefront of innovation and development in the unattended retail industry. Visit https://www.vendekin.com/