Vended.ca: Buy, Lease, Rent Vending Machines in Canada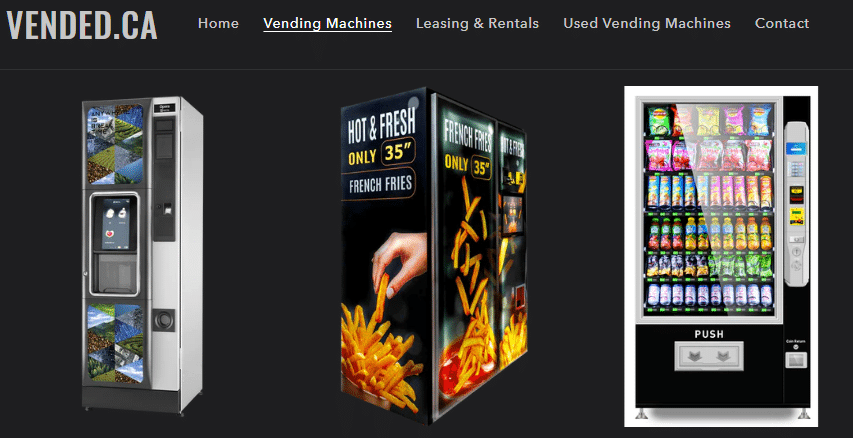 Want to expand your vending business to Canada but you can't find the right company to buy, lease or rent vending machines there?
Vended.ca is a premier distributor of vending machines in Canada including traditional drink and snack machines, coffee vending machines, and smart meal vending machines. 
Vending Machines Shipped Anywhere in Canada
Let's say that you want to expand your vending business to Toronto, Ontario, or Ottawa; VENDED.CA has the vending machines that you need to get your business established in Canada, or you can use them to grow your existing vending business there.
They offer a suite of unique vending machines including machines that offer convenient meals and snacks like:
Deep Fried, French Frys
Hamburgers
Pizzas
Snacks
Unlike the traditional food and beverage vending machines, VENDING.CA vending machines are designed specifically to offer consumers fast and easy access to the snacks that they want including meals that they can enjoy anytime.
Buy, Rent or Lease
Depending on your situation, you may want to buy new vending machines outright or renting may be the more ideal option. 
Thankfully, Vended,ca offers a large selection of new vending machines that can be purchased or leased and used vending machines that can be rented for monthly payments. 
Canada is a market that has a huge demand for vending machines, especially since the Covid-19 pandemic because, vending machines were often the only options for consumers who were looking for fast and convenient foods or beverages.
The demand continues today because consumers like the flexibility that vending machines offer them.
To learn more about the vending machines that are available from Vended.ca, visit their website at https://vended.ca or call (888) 988-1969.