Vend Smart and Stay Ahead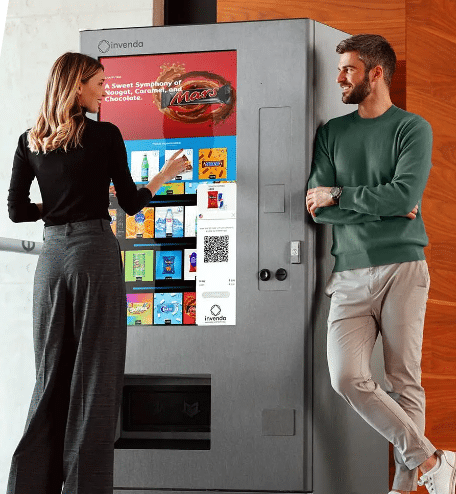 With the Invenda Group, leverage the best of technology to increase sales by an average of 60%, reduce costs and monetize advertising while offering consumers a modern and enjoyable shopping experience.
Indoor Vending Machine Made in EU
Proudly designed in-house and manufactured in the EU, this device is the result of listening to customer feedback and exploring solutions to meet the highest operational and environmental standards. Its elegant, sleek look – adding a touch of refinement to any space – hints at the efficiency of its performance. Energy-saving and revenue-increasing, this model employs the best of AI, IoT, and cloud technology to provide you with sales opportunities and ease of management never before seen in the automated retail industry.
Indoor Vending Machine
The IVM is a slick device with a large 49-inch touchscreen certain to attract consumers. The machine comes with a "brain" – Invenda OS – and is connected to the Invenda Cloud, which allows you to manage it remotely and gather valuable environmental, consumer and transactional data. The device can be branded according to your requirements to further enhance your brand presence.
Outdoor Vending Machine
OVM is a robust device with a 46-inch screen and the same high-tech functionalities as its indoor counterpart. Designed to withstand vandalism and weather conditions, it boasts IP55 water and dust resistance rating. It's best suited for heavy-footfall outdoor locations, where its snazzy look and appealing retail interface guarantee high conversion rates.
For more information visit https://www.invendagroup.com/vending-machines
Tel: +41 44 586 00 33
Email info@invendagroup.com