USI's Alpine Combi 3000, Smart Vending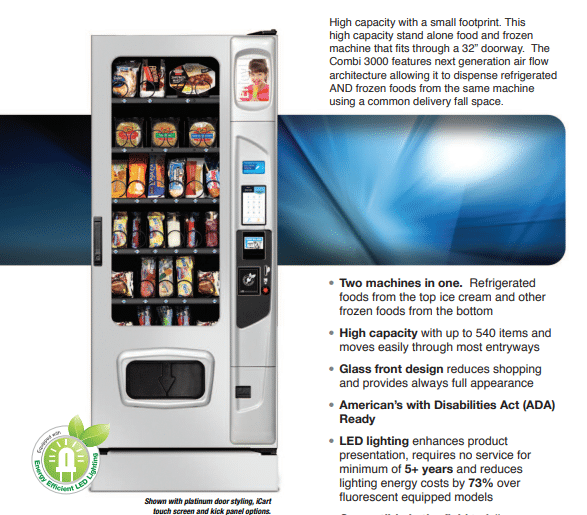 Check out the Alpine Combi 3000 by USI! This smart vending machine makes it possible for consumers to order fresh foods, frozen meals, and desserts all from one machine since the Alpine Combi 3000 can store up to 540 items while offering consumers 36 unique product selections.
Small Footprint And Easy To Use
Even though this vending machine has a small footprint at 72" inches high, 29.5" inches wide, and 38" inches deep, it has a lot to offer any operator who is looking for a vending machine that has the tools to help them offer their customers more than just one option.
This vending machine can be configured so that operators can offer their customers fresh, frozen, or a combination of options at the same time. And stores 540 Items And 36 Unique Product Selections.
Safe And Secure
For more than 85 years, USI has been manufacturing vending products that meet the changing demands of consumers, and their Alpine Combi 3000 continues in its long tradition of excellence.
Not only is this vending machine easy for consumers to use, it's also secure as well because the machine will prevent the sale of perishable food should the air temperature inside the machine rise above normal health and safety limit for more than 15 minutes.
Unlike other vending machines on the market, this vending machine can also be integrated with the latest equipment and control systems that make it possible for operators to change the pricing on the fly, offer special promotions, monitor machine performance, and more.
To learn more about the Combi 3000 by USI, visit their website at https://uselectit.com/ or call (800) 247-8709.