USI Designs Micro Market for Space and Cost Savings
A micro market designed to fit into compact locations, offer security behind glass doors and transmit data via DEX which integrates to existing VMS with no recurring fees is being introduced by U-Select-It.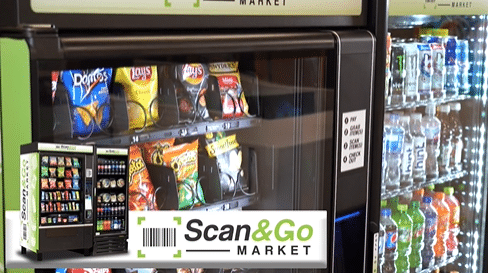 According to USI, the market is designed for small to mid-size operators who want to provide their customers with a micro market experience without the expense of many other markets.
Featuring a self-checkout system where consumers pick product from behind the cooler's door then scan on the built-in screen, the market allows operators to stock a wide variety of in-demand, high-margin fresh food, beverages and snacks. The market has the ability to stock up to 65 separate SKUs, consisting of 528 snack items (210 snack & pastry/318 candy) and 240 20-oz. bottles.
The market works on most existing Evoke machines which have a touchscreen display.
With an Evoke snack vending kiosk measuring 72"h x 32"w x 35.2"d and a complementary cooler measuring 78.6"h x 29.5"w x 27.5"d, the market operates off a single payment device, however each machine needs its own power outlet. The cooler's transparent glass door allows full product visibility, yet when closed and locked reduces shrinkage. 
Once consumers establish credit with the payment device, the glass door unlocks to allow the shopper full product access. Items can be removed enabling the shopper to check details such as product information, and then can be replaced before completing the transaction. After the selection is made, the shopper scans the products and closes the cooler door, which immediately locks, readying the market for the next transaction. Consumers are limited to three products per transaction.
According to USI, the large capacity of the market will boost an operator's bottom line while also increasing route driver productivity. The system can include sales tax and also allow for discounts and promotions. Custom graphics can be added to build brand awareness and increase sales.
"Today operators must make their operations more efficient to remain competitive and as consumer preferences continue to shift toward fresh and healthy, the demand for flexible and affordable solutions, such as the Scan & Go Market, will continue to grow," said Ted O'Brien, sales president of USI.
Unlike other micro markets, the Scan & Go market sends data through DEX, seamlessly integrating with an operators' existing VMS. USI says this method of data transmission helps reduce operator overhead.
While some micro markets may offer additional security such as weight sensors and cameras, USI said their market research and feedback indicated operators want security, but not with high additional costs.
USI says the market is designed for locations that have sufficient foot traffic to accommodate a full micro market but might have a high risk of theft and locations where sales might not justify a fully open retail micro market but operators want to provide the premium experience.
"Scan & Go Market will expand the growing market of locations for operators who have been waiting for a solution that offers an optimal level of both product security and convenience through product accessibility", said Jim Chico, VP, Global Sales & Marketing at U-Select-It International.
For more information, go to https://www.uselectit.com/scan-and-go-market/ or call 800-247-6709.