TIAA Bank Field Adds SOS Vending Machines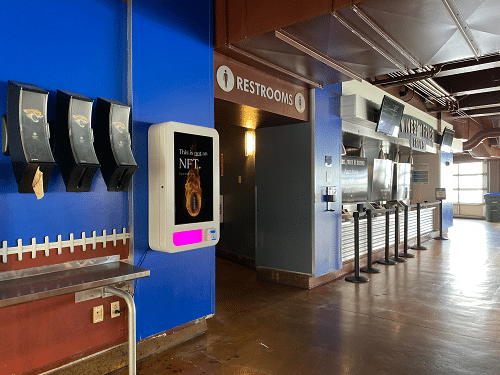 SOS is unveiling a new deployment of 14 of its personal care product vending machines at TIAA Bank Field in Jacksonville, the company's second sports venue deployment. SOS' first, at Fenway Park, was announced last month. SOS co-Founder Susanna Twarog said that sports venues are an area the two-year-old startup is actively targeting; it's in the final stages of contracts with NBA and MLB teams, with an NHL deal slated for early summer. SOS machines include a variety of personal care products, ranging from sunscreen, deodorant and chapstick to menstrual care products.
The wall-mounted machines feature 32-inch screens and, because of the machines' tech stack, SOS is developing a nationwide network of advertisers, whose images and messages play on the machines when they're not in use as a point-of-sale. Twarog said the display is intended to read like a digital magazine. Whenever a customer taps a particular item on the shopping carousel, the full screen is taken over by that particular product, with information about the product and the brand that makes it. The machines also provide venue operators with inventory data, including which products are sold the most or least. Boston-based SOS expects to have 100 machines in public venues by July, including public transit stations and corporate office parks.
As with its Fenway Park deployment, SOS is ensuring that menstrual care products will be provided free of charge at TIAA Bank Field. Twarog said the plan is to continue that effort for the foreseeable future. "When we do speak with women about this, many of our peers are women who have spent their lives going to games, fans of them from birth — it's really integral to our lives — and yet this space has not been designed or thoughtfully planned to feel inclusive," said Twarog. "It feels like a big deal to be able to do this and to say that for women at Fenway, or menstruating people at Fenway, you don't have to miss an inning trekking over to fan services to get a product. That's a huge, huge step and shows a lot of commitment to inclusivity and fan experience from these executive teams at these parks and teams."
SOS holds patents in the U.S., Canada, Europe, UK, China, and Malaysia, and has been featured in Fast Company, Forbes, and TechCrunch. The company was named one of the Top 20 Emerging Brands in Retail by ICSC. To learn how to bring this amenity to your space or explore a brand partnership, contact hello@worldofsos.com.
For more information visit https://www.worldofsos.com/