The Fastenal Vending Advantage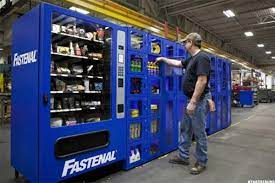 FASTVend is a total supply chain solution that's helped thousands of companies around the world gain control of their products while helping their organizations function more efficiently. 
Created by Fastenal, the advantage that comes from using FASTVend is that it helps companies to improve access to their products while reducing consumption and driving productivity because employees will no longer have to needlessly search for the products or solutions that they are looking for.
Convenience and easy access to the supply chain are just some of the reasons why companies choose Fastenal, but the other reasons are proactive inventory management, and ease of program optimization throughout every facility within a company.
More Than 100,000 Installs Worldwide
With more than 100,00 installs in 25 countries and 20,000 customer sites, it's not difficult to see why companies of all sizes choose Fastenal because they don't just offer vending machines, the company has an extensive support staff to support their customers.
Fastenal, and their FASTVend 9,000 delivery vehicles, 14 regional offices, 3,200 in market locations, and thousands of team members that are ready to serve their customers at a moment's notice.
The company offers a wide variety of industrial vending machines including:
Coil Vending Machines – An ideal solution for a wide range of smaller items. 
Sensor Vending Machines – Great for grab-n-go products that need to be tracked within the company. 
Locker Machines – Best used for dispensing large items including tools, tablets, and consumable items. 
Increase Production with FASTVend
In today's world, most companies are interested in increasing productivity while reducing costs.
Sadly, it's not always possible to accomplish both goals at the same time but with Fastenal, and their FASTVend solution, companies can accomplish their goals while implementing a solution that is currently one of the most widely adopted industrial vending solutions in the world.
From construction companies, schools, and healthcare to manufacturing, FASTVend offers the tools and solutions that companies need to thrive in today's challenging business environment.
To learn more about FASTVend, visit the Fastenal website at https://www.fastenal.com.