Swyft, Driven by AI, Big Data, Machine Learning and Advanced Robotics
Empower consumers to see, shop and receive products immediately, through Swyft's frictionless retail solutions, millions of consumers actively shop and billions have engaged with our brand and retail partners.
All of Swyft's retail automation solutions include integrated hardware, management software, and managed services. The world's leading brands and retailers utilize our turn-key solution; with services including everything from location procurement and store fit-out development to replenishment and reporting.
Swyft's solutions fill a variety of needs including unattended retail, parcel lockers, shrink mitigation, food service automation and last-mile delivery. All are fully integrated with the extensive Swyft Synergy platform and suite of machine learning and AI products. Any solution you choose can be tailored to suit your needs.
Their automated kiosks and lockers all support QR-code-based contactless payment and transactions, which allows customers to get what they need efficiently without risking their own health or that of those around them.
Greater revenue, more profits, better brand exposure. Swyft works with many brands, retailers, vending operators and enterprises to deploy their highly-scalable automated retail stores.
Swyft's high-profile automated retail channel can expand your sales, increase profits and enhance your brand through consistent user experiences.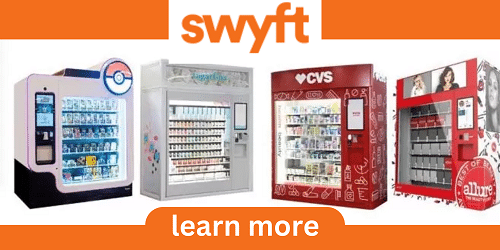 Swyft is the disruptive turn-key automated retail channel for brands, retailers, franchise vend operators and enterprises to innovatively engage with users. Their solution incorporates specifically designed automated retail hardware, a robust and scalable SaaS platform that leverages the Internet of Things, and finely-tuned managed services to ensure a scalable, cost-effective, and efficient go-to-market implementation.
Swyft's retail automation platform captures all data in the entire consumer story, then using machine learning and AI it provides insight, automates processes, optimizes your P&L and makes predictive decisions.
To see how you can also complete your omni-channel strategy contact Swyft to get a demo and find out more visit https://swyftstore.com/, call 415-766-2882, email hello@swyftstore.com.