Sweet Maui Onion Kettle Potato Chips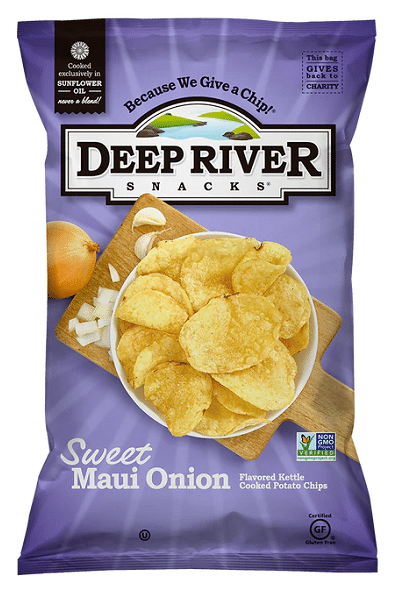 Deep River Snacks offers Sweet Maul Onion Kettle Potato Chips that are Non-GMO, gluten-free and they don't contain any artificial flavors, colors, or preservatives. Made in a nut-free facility, these Sweet Maui Onion Kettle Cooked chips offer a delicious combination of flavors, since they combine the tastiness of sweet onions and garlic. 
Cholesterol Free
Let's face it, consumers will always have their favorite brands of potato chips but, potato chip fans also want something different with their lunches, or as a standalone snack, and this is where Deep River Snacks chips come into play.
Besides tasting great, these chips are also a cholesterol-free snack that can be enjoyed anytime, unlike other commercially available chips that may leave a consumer regretting that they had those chips with their lunch.
140 Calories Per Serving
Even though most people enjoy snacking these days, they also want to enjoy snacks that are low in calories as well.
These tasty chips only contain 140 calories per serving and simple ingredients so consumers will know what they are putting into their bodies with each bag.
Certified Kosher And Gluten Free
Based in Deep River Connecticut, these chips not only taste great, a portion of its proceeds from each sale goes to charity.
Yes, their thick-cut chips live up to expectation and they will soon be a favorite of your vending or micro-market customers who are looking for a bag of chips to enjoy with their next meal.
To learn more about Sweet Maui Onion Flavored- Kettle Cooked Potato Chips, visit website at https://deepriversnacks.com.