SupplyBay – A Rugged, Cost-Effective Solution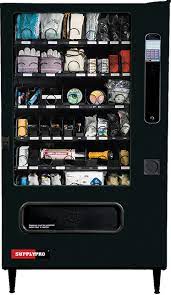 In today's world, vending machines have been placed most anywhere, and are frequently used for dispensing useful products in industrial environments.  
With SupplyBay, companies can offer their employees convenient access to the products that they need while improving efficiency. Anytime an employee needs a product, all they have to do is go to the SupplyBay machine instead of having to wait on another employee to get them the product that they need.
What Industries Does SupplyBay Serve?
From harsh manufacturing environments to high-tech cleanrooms and everywhere in between, the SupplyPro Inventory Management Solution can be found throughout a variety of major industries including automotive, airlines and aerospace, rail and transit, government, and food/beverage.
This industrial vending machine makes it possible for companies to have a truly unique system that also seamlessly integrates with any ERP and purchasing systems to track, control, and secure inventory, while providing advanced automation, visibility, and analytics capabilities.
Flexible And Reconfigurable
This industrial vending machine is versatile because it can hold up to 400 pieces, 100 pounds maximum weight per tray, and best of all, each SupplyBay also comes with a key-based manual override which can be used during power outages.
SupplyBay also makes it possible for businesses to lower their spending on indirect materials because, with this industrial vending machine, companies can have more accurate accounting for how many products are being used, and what needs to be reordered.
Dispensing That's Flawless And Efficient
Made by San Diego-based SupplyPro, these industrial vending machines are used by companies all over the world who want to have greater control over their inventory.
After a company gets started with SupplyBay, the most immediate result is they often notice that they've reduced their MRO consumption by as much as 30 percent.
To learn more about SupplyBay, visit the SupplyPro website at http://www.supplypro.com.