Soft Serve Intelligent Vending, iCream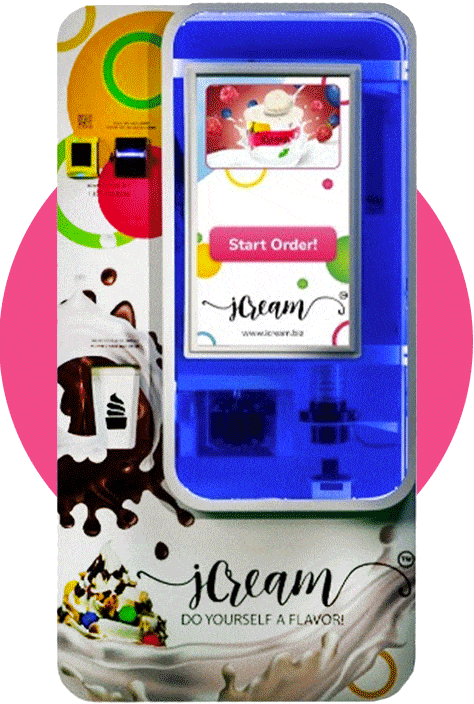 Thanks to the iCream soft-serve vending machine, operators can now capitalize on the demand for soft serve, especially at high traffic locations like malls, grocery stores, and airports.
Distributed in the United States by Golden Goose Enterprises, Inc, the iCream soft-serve vending machine has been attracting the attention of fans since it was first released in California last year.
Since rolling out their first machine, iCream has partnered with Pinkberry, the iconic frozen yogurt brand, and the delicious froyo is now being offered from iCreams vending machines along the west coast.
"Pinkberry wants to be conveniently accessible to consumers no matter where they are spending time. The iCream machines are making that possible." – John Wuycheck Senior VP of franchise development.
About The iCream Vending Machine
The iCream vending machine is about the same height as any standard soda vending machine and it dispenses vanilla soft serve, or Pinkberry frozen yogurt in a 4.2-ounce cup in less than one minute.
Customers can order a basic soft serve from the touch-screen kiosk in about one minute for $4, and they can add extras like M&M's, mix nuts, and other yummy toppings to their order for about $0.25 cents per topping.
Besides the appeal of offering a delicious, sweet treat from any location, the iCream vending machine is also appealing to entrepreneurs because it doesn't require the startup costs of a typical ice cream franchise.
"iCream is also interested in having you be a Licensing partner to operate the equipment and concepts in your area of concern as our exclusive distributor, operational partner and agent," Wuycheck said.
For more information visit https://icream.biz/, Call (877) 755-0266 to partner up!