Smart Zuply Solutions From Innovend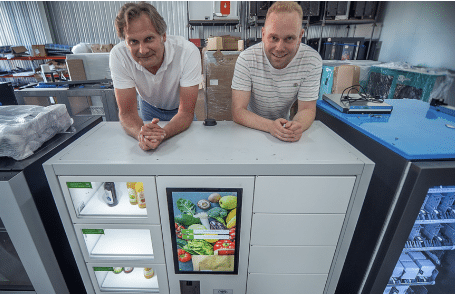 How can you serve consumers 24/7 in an era of skyrocketing staff shortages? Innovend offers an answer to this pressing issue with its intake and dispensing systems. "Our solutions even have the potential to shake up the traditional supermarket concept."
Innovend offers smart vending machines and dispensing systems – from chilled vending machines for fresh produce to machines for dispensing tools, medicines, or orders – to a wide range of customers. The company started out in 2011 with a vending machine at Brussels Airport for a manufacturer of travel accessories. Vending machines for asparagus and strawberry growers soon followed, and the target market expanded to other sectors.
"For example, we also offer parcel boxes for home deliveries in apartment complexes," says director and co-founder Sander Sciarone. "But we also offer solutions where employees can use an app to place a lunch order with a caterer and then pick it up from our machine. We also have dispensing machines for peripheral devices in offices; employees can use a code to pick up a new headset, for example, from one of these machines. This takes the pressure off IT departments."
Online management portal
The 'brain' of the solution is an online management portal. "This gives customers insights into sales, dispensing, and intake data via their web browser, from anywhere in the world. They can also manage things like sales promotions, the product range, on-screen displays, and prices." Innovend also has access to this environment. "For example, so that we can view machine data to improve our support and for troubleshooting."
These smart features, however, require a stable, continuous data connection to the Innovend platform. "The machines won't shut down immediately if they lose connectivity, but they shouldn't be offline for too long," says Sciarone. "Also, without a data connection, the payment system won't work and neither we nor the customer will be able to access the online environment."
Managing connectivity in-house
The preferred way to communicate is via a 4G mobile data connection. "Some of our customers still use their own fixed network to connect to the internet, but we prefer to manage connectivity ourselves. We'd rather not be dependent on the customer's network."
Sciarone lists a number of good reasons for this. "If the customer makes changes to the network, it can cause problems. A mobile data connection is safer for the customer from a security point of view. It also allows us to manage the stability and quality of the connection ourselves. Not only does this make things easier for our customers, but it also takes the pressure off our Support department."
KPN Things Routers
Innovend is pleased with the solution KPN provided. With KPN Things Routers, they received a total package. This includes KPN's 4G/5G mobile network and the KPN Things platform. This platform allows them to manage and monitor connections centrally. Additionally, KPN supplies the IoT routers for the intake and dispensing machines, which ensure smooth network traffic to and from the central platform.
According to Sciarone, the decision to go with KPN was a very conscious one. "KPN is a well-known, reliable name internationally, which helps us gain the trust of our customers. Its network and coverage are also of a very high quality."
Finally, says Sciarone, KPN offers excellent services outside the Netherlands. "Thanks to their strong international position and their many partners overseas, we can use the provider with the best local coverage in any location abroad. That might also be a local provider."
Unmanned supermarkets
Innovend is confident about its own future. "In today's tight labor market, unmanned sales and dispensing systems will start to play an increasingly important role. On top of this, consumers want to be able to shop faster, more often, and more easily."
The company is now collaborating with a major Belgian retail chain on new solutions for unmanned supermarket concepts. "We want to offer the same level of convenience as a normal supermarket, but without the staff."
He believes such concepts are the way forward. "Consumers want to be able to buy things more easily and more quickly. We will therefore start to see more and more of these concepts popping up in busy city centers. This type of solution also has a future in sparsely populated areas with fewer facilities."
Zuply is a brand of Innovend, a medium-sized international organization based in Oud-Gastel, West Brabant, the Netherlands. They act as a partner and together with their customers, they continuously develop new innovations in their field so that they all can grow together USA and worldwide.
To learn more about Innovend, visit their website at https://www.zuply.eu/, email info@zuply.eu.
source: Kpn IoT