Robotic Vending Machines Custom Engineered, by Fastcorp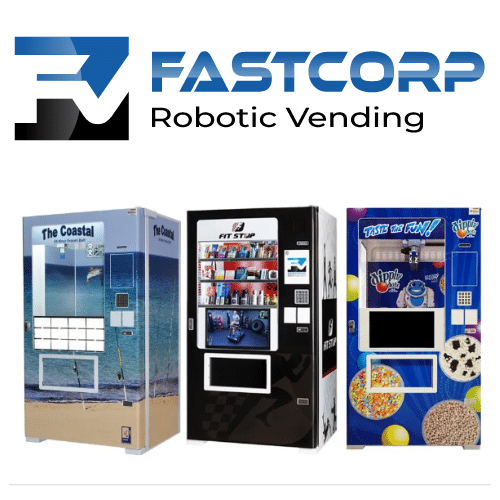 Smart robotic vending machines are the future because they help to increase ROI per location by ensuring that consumers are offered more than just the food or drink item they originally came to the vending machine for. 
Although you may want to invest in smart robotic vending machines for your business, the reality is that one vending machine may not suit every location, this is why having a custom engineered smart vending machine by Fastcorp may just be your best option.
How Fastcorp Custom Engineers Their Vending Machines
Before creating a new vending machine for their clients, Fastcorp takes the time to get to know their customer's business needs.
Next, they prepare a preliminary quit that incorporates everything that a company may be looking for in a vending machine including payment options and the features that will work best for the location.
Once their proposal is ready, they present it to their customer who gives their feedback to Fastcorp before the proposal is finalized and an order is processed.
When they have a finalized order in place, Fastcorp moves forward with creating a Robotic vending machine that will earn fantastic ROI from the location where the machine is placed.
Why Fastcorp Vending Machines Are Different
Besides being a state of the art 'smart' vending machine, Fastcorp's vending machines are different than others on the market today because they also enable operators to earn passive income, have consistent branding, while being easy to maintain.
Fastcorp has been a leader in the vending industry since 1990. This means that they have decades of experience in the retail marketplace, and they continue to stay on top of the latest technology while incorporating it into their vending machines to make them even more profitable for their customers.
To learn more about Fastcorp, visit their website at https://www.fastcorpvending.com or call (203) 739-0301.