Seaga's New Envision Combo, Next Generation Merchandiser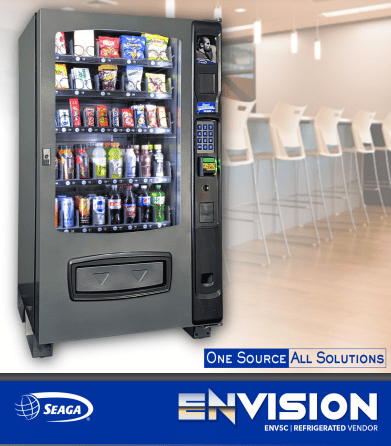 Seaga's New ENV5C Combo Snack and Drink is ideal for high traffic locations where product variety is key to increasing overall profits.
Seaga ENV5C 5 – Wide Snack & Drink Vending Machine – This 5-tray wide refrigerated snack and drink combination vending machine is part of Seaga's Envision series.
The unit offers a wide range of features at an amazingly low price. The large, easy-to-read 4.3″ LCD color display is fully programmable. The machine also includes a Braille equipped telephone style keypad for ease of use. The specially designed trays let the operators to tilt or pull out the trays for stocking and servicing without worrying about a wire harness. Dual spirals are standard in two trays and the oversized push door lets the ENV5C assist in vending bottles, cans and refrigerated foods of all kinds. This model features a tough all-steel design and reliable anti-theft precautions.
CHECK OUT THESE FEATURES:
Payment System: Electronic coin changer & bill acceptor/validator included in purchase price
Vends candy, chips, pastries, snacks, and drinks
Convertible shelving
Dual coils are standard
All metal adjustable product trays tilted thirty degrees for simplified servicing
Energy efficient cabinet with spray in foam insulation that are HFC and CFC free
Removable trays with first in/first out (FIFO) product loading capability
Oversized product bin for larger products
Dual spirals standard in two trays
4.3″ LCD color display
Environmentally Friendly LED Door Array for Better Product Display
Custom pricing from $0 to $999.95
Instant display of audit totals when front door is opened
Equipped with vend detection system that re-credits or refunds if no product
High security reinforced cabinet and door
Electronic coin changer and bill validator included
Cooling unit with R290 gas dramatically decreases pull down time
Energy efficient heated door for reduced condensation
1 year manufacturers parts warranty
Optional 2-year or 4-year extended warranty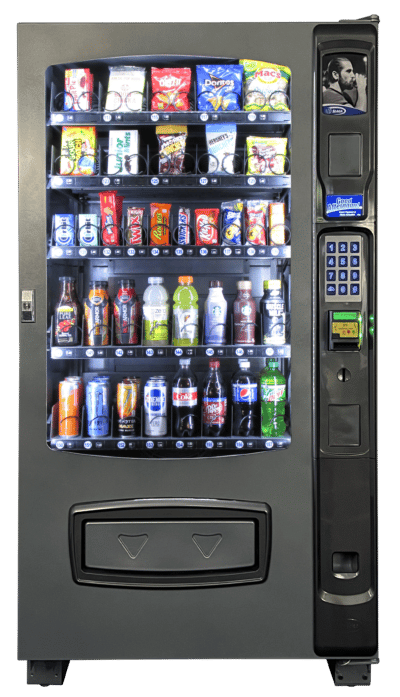 SPECIFICATIONS:
Dimensions: 72″H x 39″W x 37″D
Selections: 36
Capacity: 375 items (279 snacks, 96 drinks)
Power: 115V, 60HZ, 12 amps
Weight: 721 lbs
UPC: 760799682015
Contact Seaga. Call Mark at 760-207-6673, or email mbently@seaga.com.