RUNA – Brewed Natural Caffeine Energy Drinks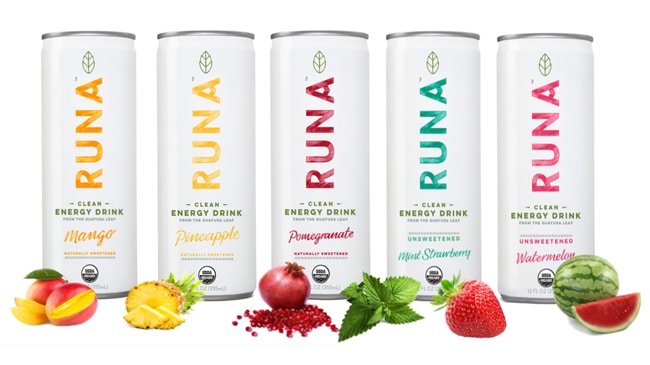 Thanks to RUNA energy drinks, consumers finally have an energy drink that tastes great and will provide them with the energy that they need, without leaving them with a 'crash' after they've consumed them. 
With only 10 ingredients and 150 mg of caffeine per serving, RUNA energy drinks are an ideal energy drink because they come in a variety of flavors (similar to Kombucha tea) and they will provide consumers with a great source of clean energy that won't leave them with a crash after they've consumed one. 
Contains Brewed Guayusa Leaves
What makes RUNA different than other energy drinks available on the market today is the balance of L-Theanine and polyphenols that each RUNA drink contains.
The unique health benefits come from brewed guayusa leaves, a 'super leaf' that's found in the Amazon 'forest gardens' in Ecuador and it's been consumed by locals there for years.
More Caffeine Than A Cup Of Coffee
When brewed, guayusa leaves produce a powerful tea that's not exactly a tea, because this tea contains more caffeine than a traditional cup of coffee, while also being high in caffeine and antioxidants.
Besides offering tremendous health benefits, the ingredients in RUNA teas are also certified USDA Organic and fair trade certified, Non-GMO, gluten-free, vegan, and Kosher as well.
This means that anyone can enjoy them, especially while completing a task that requires focus and concentration.
Learn More About RUNA
Since founding the company in 2008, the demand for RUNA energy drinks has increased worldwide as more people have discovered the health benefits that these drinks contain. 
To learn more about RUNA energy drinks, visit their website at http://runa.com.