Reyeah's Vape Vending Machines with Biometric Verification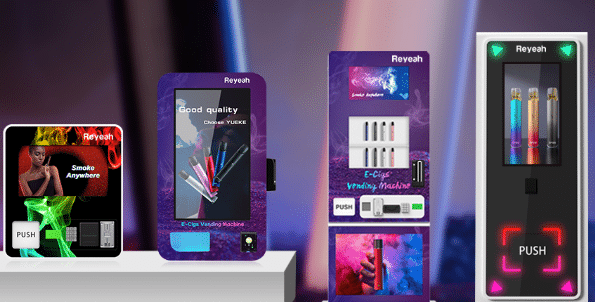 Searching for another vending machine to add to your portfolio of vending machines for additional revenue? Consider Reyeah's vape vending machine, with biometric age verification technology.
In the 2020's, vaping continues to be a trend that shows no sign of declining in the United States and more operators are eager to cash in on the demand for vape products.
With their VSTA D12-02 series vending machine, it's never been easier for an operator to offer vaping products to their consumers since this vending machine is intuitive, easy to use and contains ID verification along with facial recognition.
32" Interactive Touch Screen
There's nothing like giving consumers the ability to almost touch the vaping products that you offer from the VSTA D12-02 because, the 32" touch screen gives people the ability to see products up close without having to touch them.
Consumers will get to see the products that they want in action, making choosing the right vaping products easy but what's most ideal is that the D12-02 also comes with the capacity to run digital signage and video ads as well.
18 Cargo Lanes And 6 Layers
Variety is also another option that vaping consumers are looking for currently because they can grow tired of certain vaping products quickly.
VSTA D12-02 offers tons of options thanks to its 18 cargo lanes, and 6 layers, this means that the vending machines can be used to sell more than just vape products because it's also possible to sell prescription drugs, CBD, vitamins, and countless other options as well including wine and other glass bottled drinks.
Safe And Secure Vending
Offering a safe and secure vending machine experience is always a priority when businesses consider vape vending.
This vape vending machine also offers operators peace of mind in knowing that they can easily and conveniently offer vape and other products that require age verification thanks to the VSTA D12-02 age verification and bio metric systems.
To learn more about Relyeas vape vending machine, visit their website at https://www.reyeah.com.