Refrigerated Merchandiser Giant, Due North, Reimagines Pet Food Vending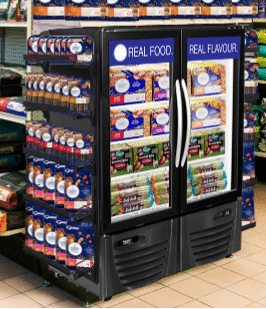 Due North believes more intuitive and diverse pet food retail refrigeration experiences are on the horizon with heightened, frictionless shopping supported by IoT and industry 4.0 technology. In 2023 smart commercial refrigeration is getting even smarter with grab-and-go mechanisms like contactless payment systems. Remote monitoring and management are also oncoming, and represent the future in providing exceptional customer service, easy consumer interactions and increased business profits for the pet food segment.
"We always aim to understand how our customers use our products and how pet food consumers are interacting with them, to proactively help businesses realize sales growth and so that consumers experience a helpful and engaging buying experience," said, Randy Skyba, VP of Sales & Marketing of Due North. "Our goal is to deepen our customer relationships, to exceed their expectation, to help them succeed."
The contactless payment terminals market is expected to grow to $43.42 billion in 2026 at a CAGR of 21.8%, and the pet food retail industry is not excluded. The Due North, Minus Forty brand is meeting the demand with the PicoCooler™ and Breeze systems™, both capable of allowing consumers to unlock a glass door merchandiser with their credit card and purchase product – making it a fluid and independent buying process. Capabilities are:
Touchless payment systems on refrigeration cabinet doors
Payment solution connected to shelf weight sensors inside refrigeration cabinet
Video recognition as the customer is pulling the product out of the display merchandiser
Automatic door lock after a transaction is completed
"Our product and engineering team is planning and building behind-the-scenes to successfully address the most pressing needs expressed by our customers," says Julian Attree, Chief Strategy Officer, and Chief Commercial Officer of Due North. "We always aim to be two steps ahead, to know what pet food retailers need or want before they do, so that we can provide something they are not expecting, like better marketing, intuitive technology, more connectivity and better business management."
Given the value delivered in the grocery, micro market and vending setting, pet food retailers are starting to use more connected devices. This includes easy-to-use refrigeration management and monitoring systems. SmartConnect™ allows the store owner and manager to always be aware of the refrigeration cabinet's status. In the event of an operational alarm such as a high temp or door open alarm, they will immediately be notified. Real time telemetry that allows the store owner and manager to be informed and to action a response. Capabilities are:
Cloud-based dashboard for remote viewing of a single site or across national chains
Mobile, app-based instant notifications via text or email
Access to merchandiser data: temperature, door opening status, evaporator temperature, power failures, and compressor and defrost cycles
Check current and past merchandiser reporting for alarm conditions such as high temperature, door open, malfunction alarms and remotely silence alarms
Respond remotely and ensure inventory safety
Allows remote door locking and unlocking on units that are equipped with food safety SmartLock™ technology
The focus is on delivering business efficiency, enhanced customer service, quality-assurance compliance, and better profitability to pet food retail business owners and pet food manufacturers.
About Due North
Due North creates refrigerated, retail merchandising solutions that maximize our customers' success. The company was rebranded in 2022 and combines long-standing retail refrigeration companies QBD, Minus Forty and MTL COOL into one organization. Due North supports customers in retail segments including pet food, beverage, ice cream, vending, grocery, food service, convenience, QSR, pharmacy and more.