Race Through City, Topple Towers of Coins with LAI Games at EAG Expo in London
Two of the company's top sellers will be on display at the EAG EXPO annual trade show.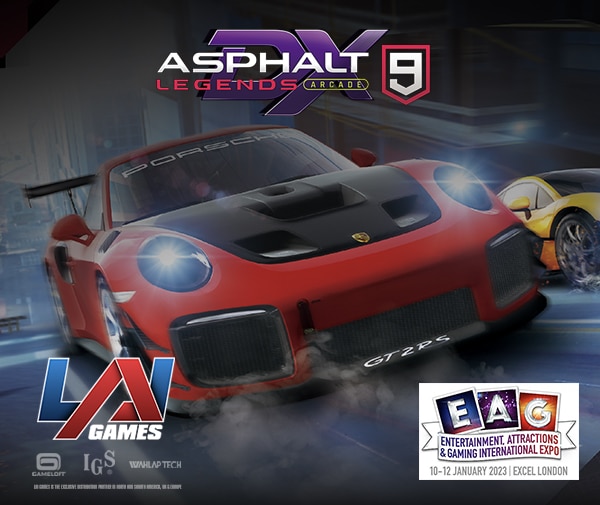 LAI Games (LAI) is proud to announce that both Angry Birds Coin Crash and Asphalt 9 Legends Arcade Simulator will be available for demonstration during the Entertainment, Attractions, and Gaming Expo at Excel London. Continuing the success of the IAAPA 2022 show in Orlando, the multi-award-winning company has partnered with distributor Crown Leisure / Harry Levy to showcase the ongoing ingenuity and creativity that LAI brings to the industry.

Angry Birds Coin Crash has quickly become a major revenue stream for venues, beating top six-player pushers. The game features impressive-looking towers that are built from the bottom up via a special mechanism that deposits coins in a circle, one layer at a time. Tower heights can reach up to 1200 coins,
with multiple towers on the playfield at once, inviting players to come try their luck at winning them.

Lauded as the top earning driver on the market, Asphalt 9 DX Simulator is the ultimate game room attraction for racing enthusiasts. The game offers an immersive racing experience featuring the world's
most exclusive cars, including Lamborghini, Porsche, and McLaren, a motion platform, dynamic wind
jets, force feedback, vibrating speakers, premium hardware, full HD video graphics and a 43" monitor.
Both games can be found in booth #60 at the front of the hall.
About LAI Games
LAI Games is a designer, developer, and manufacturer of unique, accessible, and creative games and experiences for location-based entertainment venues and home consumers alike. Our portfolio is comprised of video games, Virtual Reality experiences and games, ticket and prize redemption games, web apps and more. Our goal is to craft the most engaging, rewarding, and innovative games and experiences for consumers, built with operators needs in mind.

For more information, please visit www.laigames.com or contact Allison Timberlake:
allison.timberlake@laigames.com.