New Robotic Food Machines On-Campus at NKU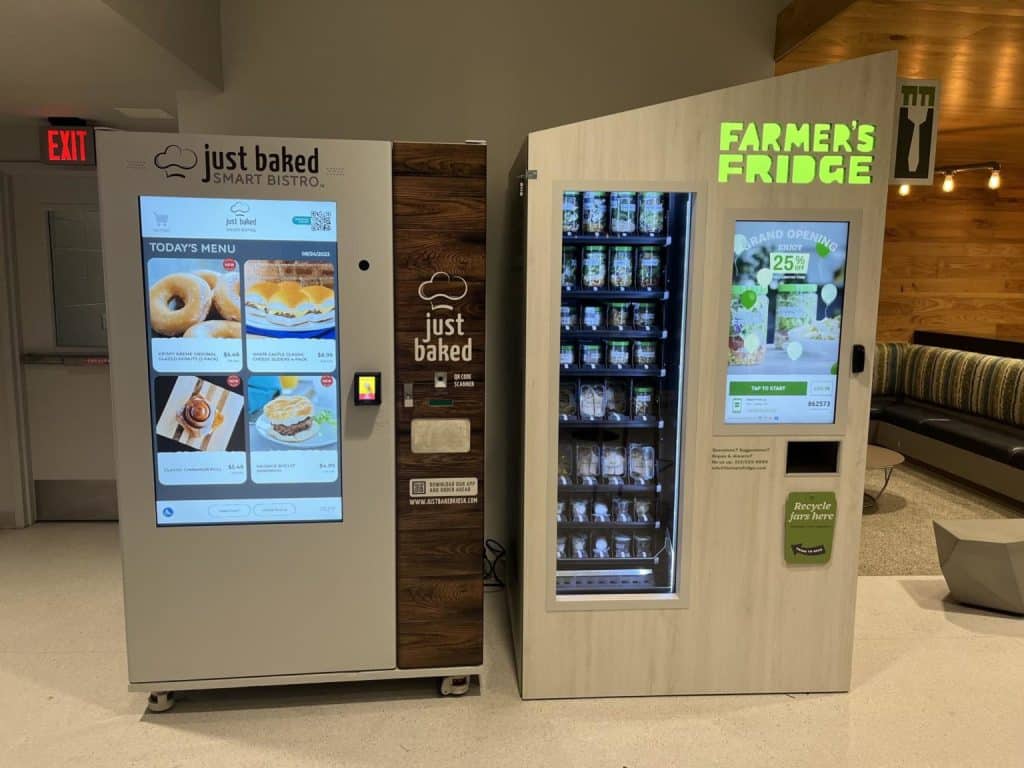 Students can purchase full meals to be made in one to two minutes.
Have you ever craved a White Castle slider late at night? Or a warm Krispy Kreme donut? Starting this fall students can get food in Callahan Hall and the Health Innovation Center all with the help of robotic food machines.
To increase food options around campus, District Manager Derek Roorda of Chartwells hopes the new robotic machines will give students access to high-quality food in proximity to campus at any point in the day.
"I want to have options down by Norse Commons so that when Norse Commons is closed, students don't have to walk all the way to SU or somewhere else to get something," Roorda said. "They just go [into Callahan Hall] and they can get something right away."
Callahan Hall will feature two machines, including the Just Baked Smart Bistro and the Farmer's Fridge. The Health Innovation center will only have the Farmer's Fridge. 
Students can place an order by using the screen of the machines to choose food items, such as a sausage biscuit sandwich, cinnamon roll in the Just Baked Bistro. The Farmer's Fridge offers salads, wraps and more. The machines will then make the food to order which takes around one to two minutes and can keep the food at a safe temperature. 
Students can also order things in advance from the machines by using the Just Baked Bistro mobile app or the Farmer's Fridge mobile app.
The robotic machines, much resembling traditional vending machines, have many more technological features that can make breakfast, lunch and dinner meals quickly at the correct temperature.
Inside the machines are trays that hold each meal, which students can receive made to order. The containers that the food is served in are also environmentally-friendly and biodegradable.
There will be a slow rollout of the machines though there could be potential for more to pop up around campus, said Roorda.
The food options inside the machines are subject to change at any point according to sales or items in-demand.
"If we see that the sales are dipping and the students aren't using it, we can change [food options] because we built that back end infrastructure," Roorda said.
Students are able to purchase the robotic-made food using a credit card or their NKU All Card. All purchases students make using their All Card are classified as tax-exempt.
For more information about Just Baked Kiosks visit https://www.justbakedkiosk.com/