MYX A Smarter Drink Kiosk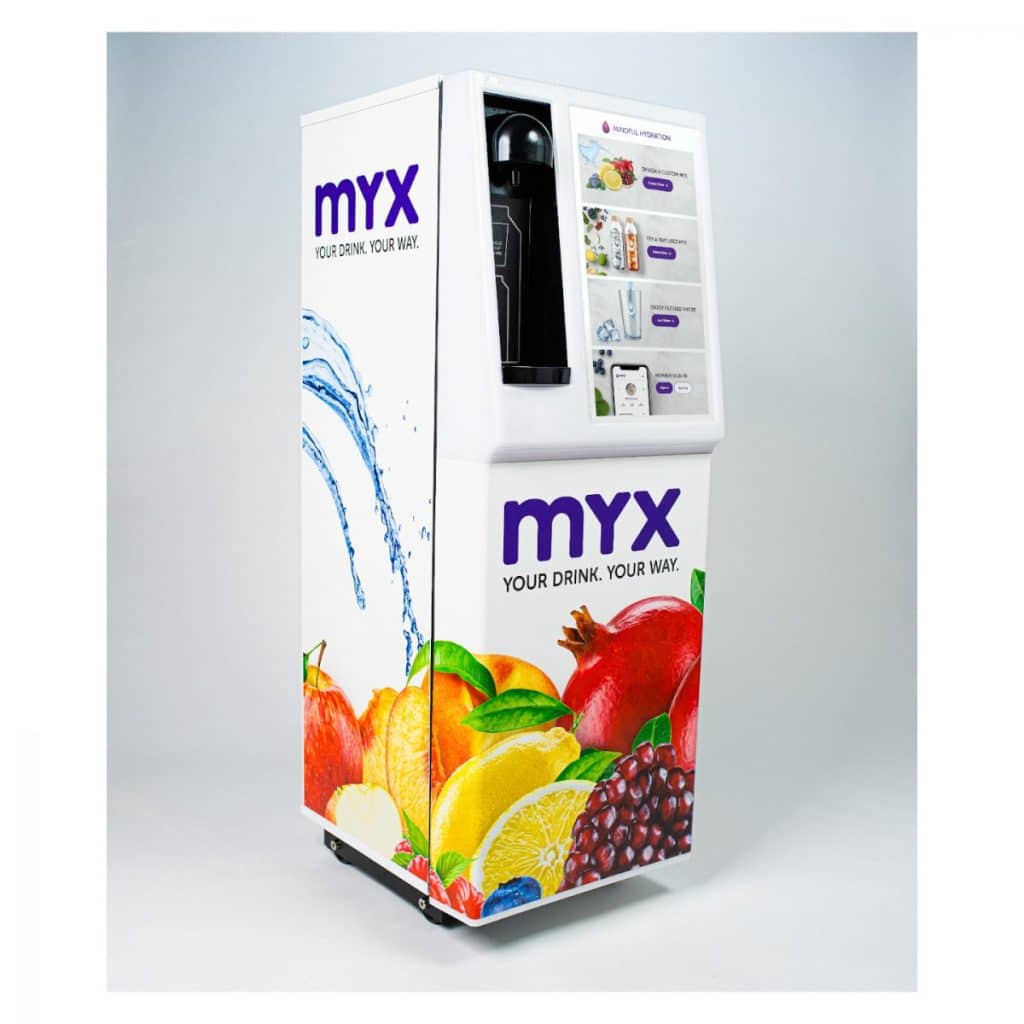 MYX Smart Drink Kiosk is an all-in-one hydration solution. Using an operator's existing water line, MYX provides still, sparkling, and flavored water that will never run out. The water is always filtered. If the machine needs servicing, MYX technicians are automatically notified and deployed to minimize downtime.
Benefits of MYX Smart Drink Kiosk
Healthy Hydration – Still or sparkling water, natural drinks, organic options, custom supplements – Unlimited capabilities.
Four Patents – No harmful refrigerants, precise dosing, pour from the APP, CBD oil dispensing.
Intelligent Technology – Lowest energy consumption of any cooler or vendor. Intelligent User Interface with backend connectivity to a custom dash board – 4G.
Accessibility – For the visually and hearing impaired, our NFC technology allows access to personal history and drink order via the APP.
Dimensions – (Above Counter) Width: 19″, Height: 54″ with leveling feet, 53″ with roller wheels. Depth: 23″ Ventilation rear clearance 4″ minimum.
Ingredient Capabilities & Capacities – Dispenses and stores 12 ingredients in 1⁄2-Gallon boxes.
Plumbing Requirements – Potable Water Supply: Maximum 100 PSI pressure, minimum 5 PSI pressure at 1 GPM flow rate.
After launching nationally in Spring 2019, MYX Hydration Stations have started to pop up throughout North America. The company asks that operators who want more information about an MYX Hydration Station should send an email to myxmaster@myxdrinks.com.
For more information visit https://myxdrinks.com/operators.