Micron Smart Fridge Utilizes Weight Sensing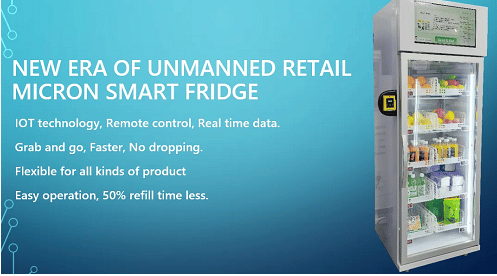 Are you searching for ways to offer your vending customers more value? If so, the Micron Smart Fridge will give you the ability to offer your customers more than just drinks and snacks.
With this smart fridge, you can offer the products that someone would expect in a normal fridge like drinks, freshly made foods, fruits, and vegetables without you having to worry about those products staying fresh.
The weight sensing technology of the fridge makes it possible to know when products have been removed so that it knows what to charge the customer, and when to alert the operator as products need to be restocked.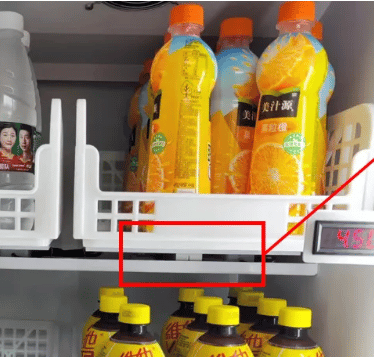 How it work?

Each goods tray has weight sensing technology computing the weight before and after the door is opened enabling the cooler to know what product was taken and charge the consumer accordingly.
Vending For The 21st Century
Besides giving operators the ability to offer their customers more than drinks and snacks, this grab-and-go smart fridge also offers a pull-out tray for easy refilling and a variety of smart features that make it easy to manage from any mobile device.
Using the Amazon Cloud-Based Management system, the smart features that this fridge offers include:
Real-time sales data
Real-time inventory reporting
Replenish record
Machine electricity bill
A Better Shopping Experience
Even though this smart fridge will be an ideal upgrade for any vending business, what's most important is that it will also offer customers a better shopping experience than they had in the past with other services. Operators can sell items by weight, by piece, and run ads to promote other products on the fridge touch screen.
What's most ideal about this fridge is that products won't be difficult to see products due to fog and vapor because this fridge has defogging glass that helps to efficiently display products and protect them even if the machine loses power.
Micron Smart Vending is an award-winning vending machine manufacturer in China with over 8 years of experience in offering both state-of-the-art vending machines and online management software. Shipping customized orders from all over the world and now including the USA.
To learn more about the Micro Smart Fridge, call +86 138 26225 189, visit their website at https://www.micronvending.com, or email.