LAI Games Unveils Asphalt 9 VR at Bowl Expo 2023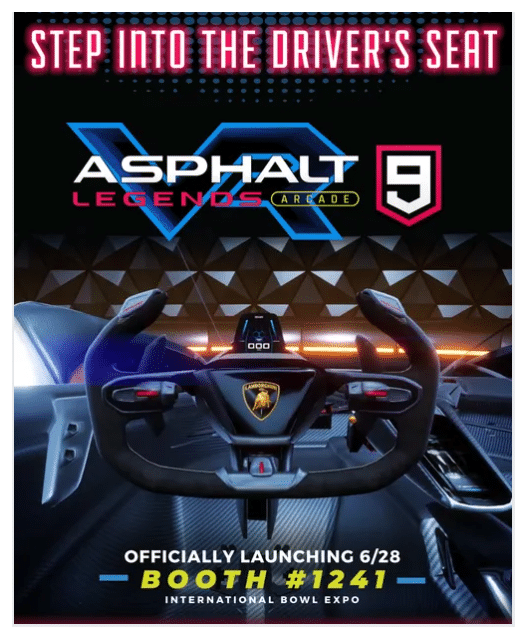 LAI Games, a global leader in out-of-home entertainment, is thrilled to announce the official launch of their highly anticipated Asphalt 9 Virtual Reality arcade game at Bowl Expo 2023. The annual event is set to take place on June 28th and 29th, and LAI Games will be showcasing their innovative VR racing experience to bowling industry professionals.

Asphalt 9 VR takes the excitement of the popular Asphalt 9 DX Simulator and Premium models to new heights, immersing players in a heart-pumping virtual reality racing experience. Featuring realistic cockpit views of the guest's chosen supercar, a selection that includes Lamborghini, Porsche and McLaren, this game offers a thrilling and realistic driving simulation that is sure to captivate players of all ages and skill levels. In addition to the exhilarating gameplay, Asphalt 9 VR offers a premium VR headset featuring stunning graphics and inside-out tracking, which eliminates VR interference. The game also includes a variety of gameplay modes, including single-player races, multiplayer competitions, and challenging time trials, ensuring endless hours of excitement for players.

Join LAI Games at Bowl Expo 2023 Booth 1241 to experience Asphalt 9 VR as well as LAI's other top hits including Rick and Morty Blips and Chitz, Virtual Rabbids Ultra HD, FGTeeV Out of Time, and Slam N Jam Ultra basketball. For more information, visit www.laigames.com/asphalt-9-legends-arcade-vr.

About LAI Games:
LAI Games, a subsidiary of the Helix Leisure Group, has been a leader in the interactive entertainment and game industry for over 60 years. With a reputation for innovative and high earning games, LAI Games commits to providing the most profitable and memorable entertainment solutions for operators and players alike.
Learn more at www.laigames.com.