LAI Games Shifts into High Gear with Four Thrilling Game Debuts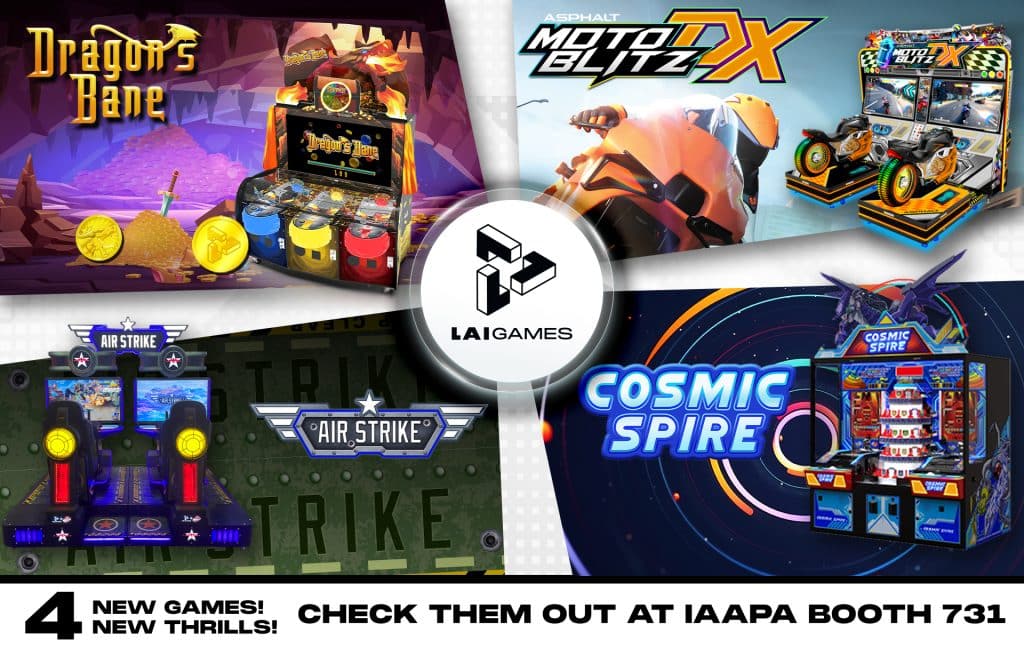 LAI Games, a top producer of arcade games and attractions, is set to unveil four new games at the upcoming IAAPA Expo, taking place November 14-17 in Orlando, Florida. They'll be adding a thrilling racing simulator, Asphalt Moto Blitz, a fun competitive flying game, Air Strike, plus two spectacular coin-pushers, Cosmic Spire and Dragon's Bane, to their catalog of hit attractions.

Expanding on the hugely successful Asphalt 9 series of racing simulators, LAI brings the thrill of the world's top motorcycles to your arcade with Asphalt Moto Blitz. Guests race their friends through exotic real-world locations on high-performance super bikes from top brands including Ducati, Honda, KTM, Yamaha and more. A stunning two-player cabinet attracts guests, while the heart-pounding visuals and 3-axis motion keep them coming back for more.

Dragon's Bane is a stunning, dragon and fantasy themed, three-player coin pusher. Using a token launcher, players attempt to shoot coins into a moving Loot Bag or onto the play deck. A successful shot
triggers exciting on-screen action! The mix of analog and digital gameplay, mini games and a shot at the Mega Bonus Tickets gives the game considerable depth that keeps guests playing.

Cosmic Spire is a two-player, alien-themed coin pusher that challenges guests to ascend to new heights. Drop coins down the playfield to win tickets, coins and best of all, to send a Fire Ball into a tower with rotating levels. Hit one of the UP slots to go to the next level. As players ascend, the ticket values do too – all the way to the top reward level for a chance at the Super Bonus tickets.

Air Strike is a 2-player competitive flying game that takes guests through multiple fantastical worlds as they try to shoot down monsters and villains. Excellent visuals and pendulum motion immerse guests in the on-screen action. Air Strike can be set for ticket redemption or amusement only.

LAI Games invites you to visit Booth #731 at the IAAPA Expo to experience these games for yourself!

About LAI Games
LAI Games, a subsidiary of the Helix Leisure Group, has been a leader in the interactive entertainment and game industry for over 60 years. With a reputation for innovative and high earning games, LAI Games commits to providing the most profitable and memorable entertainment solutions for operators and players alike. Learn more at www.laigames.com.